Physiotherapy Clinic – Langley, BC
Who We Are
At Bayshore Therapy & Rehab, we provide the best therapy services possible. Our clinic, located in downtown Langley includes a full gym, private treatment rooms and areas for group training. Our multidisciplinary practice focuses on achieving positive outcomes. We treat all types of injuries and offer direct to insurer billing. Same day appointments, at our Langley clinic are available for physiotherapy and massage therapy. Online scheduling system coming soon.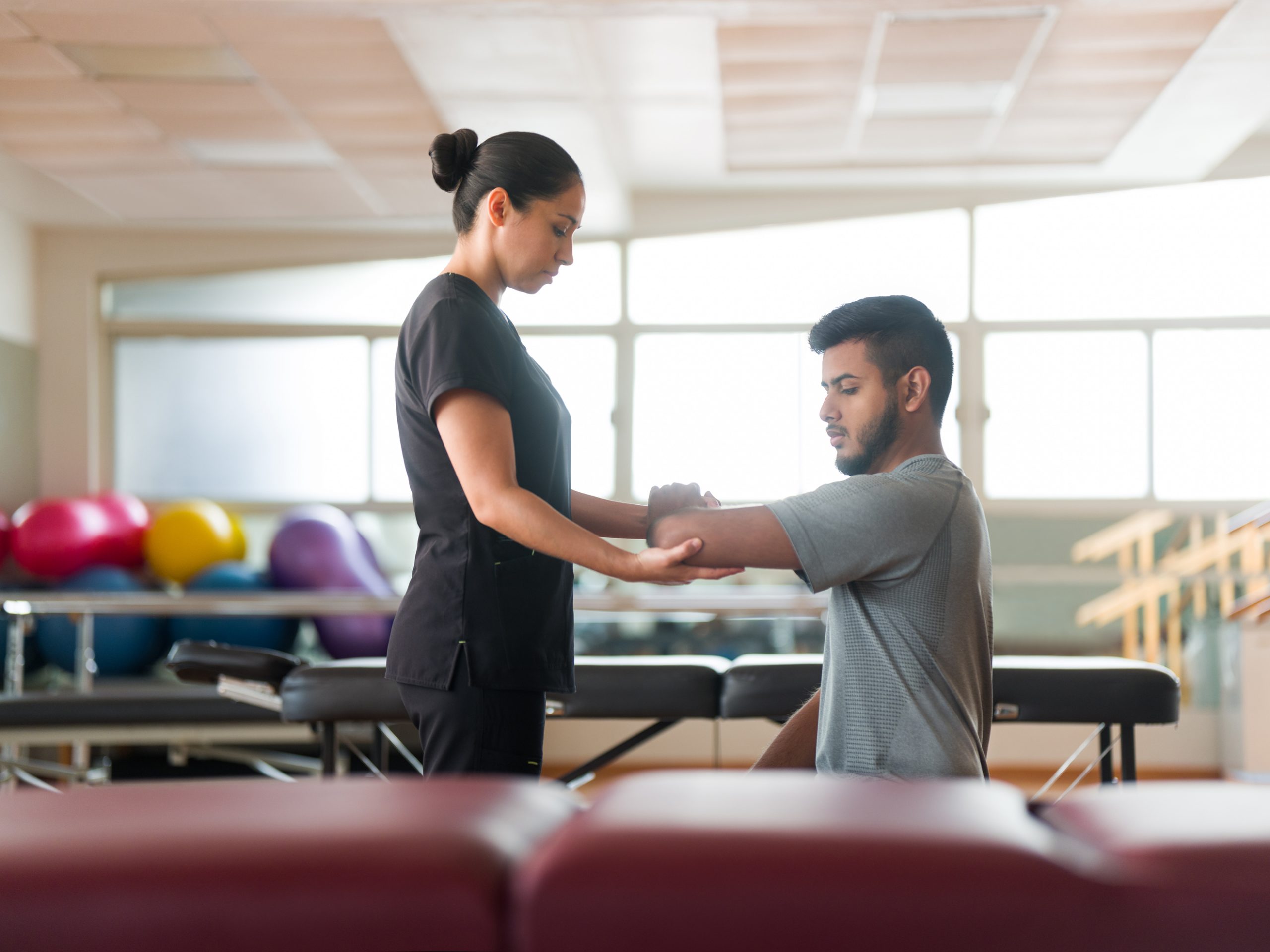 Our Services
The following services can be provided either at our clinic or in your home:
Physiotherapy : Our physiotherapists focus on assessing, restoring and maintaining your optimal physical function using a range of treatment techniques.
Occupational Therapy: Designed to maximize your independence, occupational therapy helps with your physical, cognitive, mental health and functional challenges.
Kinesiology/ICBC Active Rehab: Kinesiologists help you to maintain, rehabilitate and improve your movement and function. Soft tissue trauma experienced in a motor vehicle accident can have life long impact on the body if it is not appropriately treated. While other traditional modalities of treatment are going to help with symptom management, an active approach to addressing the physical injury is needed for long term relief.
Registered Massage Therapist: Massage therapy can help reduce stress and tension, improve circulation, and restore mobility in the body.
Ergonomics: Our ergonomic assessments can be provided at your home, work site, or industrial setting to help prevent injuries and/or to support you when you to return to work and normal duties.
Personal Training: Our individualized, custom training programs are optimal for both athletes and weekend warriors. Whether it's to improve performance, increase strength, or lose weight, our exercise and nutrition experts are here to help.
Counselling (Psychotherapy): Our registered clinical counselors work 1 on 1 with their clients to effectively identify the root of a problem, develop strategies for addressing the problem, and establishing long term plans for sustained growth.
Community Support: We offer a number of programs designed to help you lead a meaningful and fulfilling life. From employment to housing supports to life skills and community integration programs, we ensure individuals living with developmental disabilities, acquired brain injury or mental health issues get the support they need to access all their local community has to offer.
Community Integration: Our Community Integration Program teaches you how to safely and independently access resources and services in your local community. Our Community Support Workers teach Handy Dart Training, strategies to facilitate communication while out in the community, road and community safety, safety in the community, and route finding, public transit training including utilizing taxi services and how to safely accessing amenities such as libraries and recreational centers.
Acquired Brain Injury Rehab: Bayshore provides assessment, treatment and care for individuals who have sustained a traumatic brain injury. Our rehabilitative care enables our clients to have greater independence and an enhanced quality of life.
Employer Services: The needs of every employer are unique and our programs are completely customized to provide the right solution. Our services include ergonomic evaluations, physical demand analyses, functional abilities evaluations, post-offer employment tests, wellness and lifestyle programs, mental health wellness, medical surveillance testing, on-site rehabilitation and disability management.
Check out our team of outstanding staff. Our dedicated team of highly experienced health and wellness professionals are looking forward to helping you with aches, pains, injuries and general well being.
Resources
The benefits of a holistic approach to concussion recovery
How exercise therapy helps to heal soft tissue injuries
Contact Us
For more information call us at 778-736-0127 or email us at btrbc@bayshore.ca.
Bayshore Care Planner
Care now. Care later. Care advice.
Getting started with Bayshore's online Care Planner is easy. Finding home care for yourself or a loved one often begins with one simple question – "Where do I start?" By answering a few questions about who needs care and their medical condition, our online Care Planner tool will create a customized care plan, recommend home care services and provide you with relevant resources.

Whether home care is required immediately, or you're simply researching options, Bayshore's Care Planner is a great place to start.
Let's Get Started
To get started, please tell us a bit about yourself.
Continue