MyBayshoreCare
Connect with your care team anytime, anywhere.
As your neighbourhood care provider, Bayshore HealthCare is here to support you and your family through every step of the care process. Now, managing your home care plan has never been easier! Our new, secure, free, online tool – MyBayshoreCare – helps you and your loved ones stay connected and up to date.
Now available in Toronto, Mississauga, Barrie, York Region, and Oshawa MyBayshoreCare is a secure platform that provides these great benefits: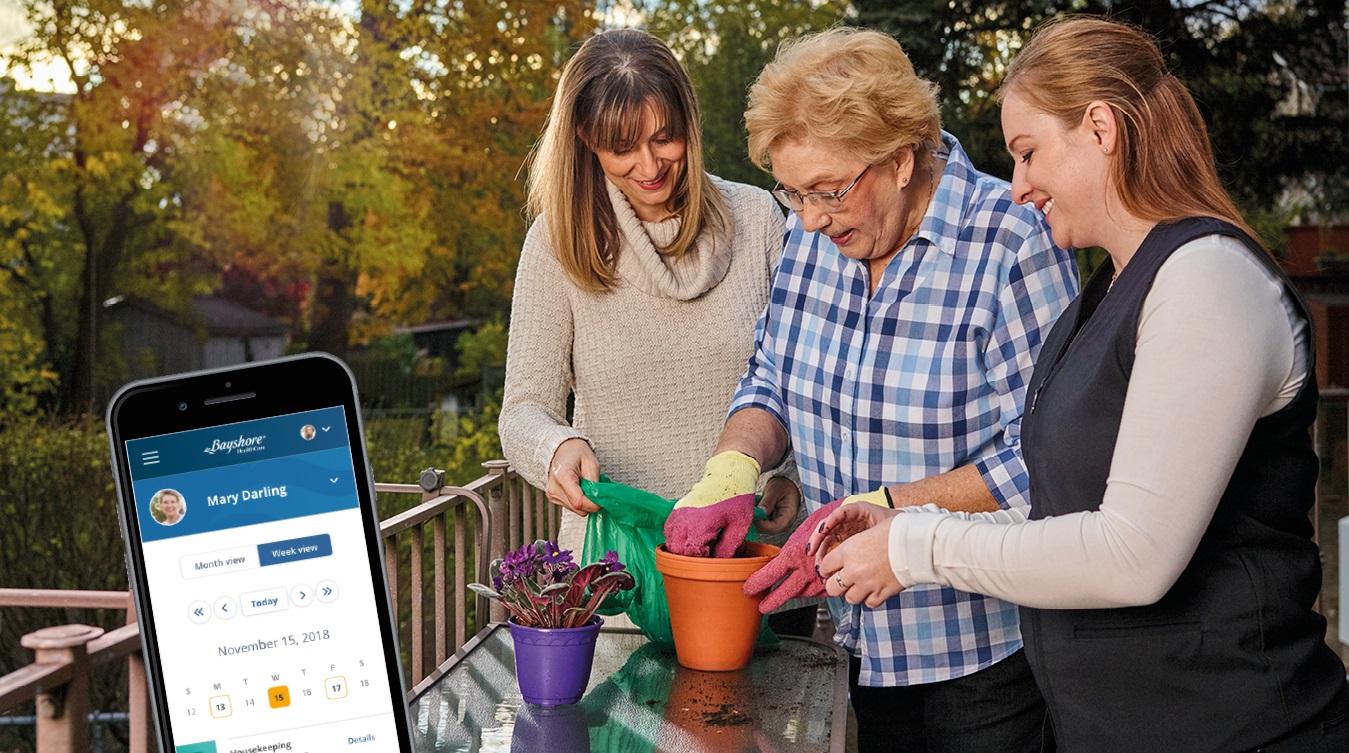 Don't worry about missing a visit
Weekly and monthly view of scheduled home care visits
Create personal appointments or events within the calendar
Information about the type of care being provided on each visit (i.e.: companionship, meal prep, nursing, etc)
Request additional care hours or add additional services
Know who's coming to your door for every appointment
Information about the care team, including photos and bios of the Care Manager, PSWs and Nurses
Contact information for your Bayshore branch and Care Manager
Communicate with the care team online
No phone calls, no emails, no sticky notes. Just instant messaging
Notify the care team of changes around the home ("New passcode on the garage door is 33345″) or changes to the client's general health ("Mom was pretty tired last night, please don't go out for a walk ")
Know that your loved one is OK
Receive Wellness Updates about your loved ones. The Bayshore care team lets the family know a visit has been completed and how it went. For example, "Dad had a great day, we visited the Farmer's Market in the park."
Review the Caregiver Checklist to quickly see which tasks were completed during a home care visit
Receive important messages and recommendations, such as "Snow is expected, your caregiver will be 10 minutes late"; or "Your mom needs milk, please pick some up before you come over"
Additional features
View billing information and pay online
French language option – all features are available in both English and French
Give MyBayshoreCare a try! Watch these short videos to learn more about the online tool and how you can manage your home care plan easily!
For more information about MyBayshoreCare or if you require assistance setting up your account, please contact your local Bayshore Home Health branch. Your local branch can also help if you would like to change your care schedule, add additional care hours or add additional home care services.
Barrie:
65 Cedar Pointe Drive, Unit 809A
Barrie, ON L4N 5R7
(705) 986-0127
barrieprivatecares@bayshore.ca
Toronto:
992 Kingston Road
Toronto, ON M4E 1T2
(416) 927-7850
torontocares@bayshore.ca
Mississauga:
89 Queensway West, Suite 202
Mississauga, ON L5B 2V2
(905) 277-3116
mississauga@bayshore.ca
York Region:
9955 Yonge Street, Suite 203
Richmond Hill, ON L4C 9H6
(905) 944-9451
yorkregion@bayshore.ca
Durham Region:
1615 Dundas Street East Unit 202A, Whitby Mall
Whitby, ON L1N 2L1
(905) 433-4002
oshawacares@bayshore.ca