Paediatric Program
Health care for the unique needs of children, youth and their families
Bayshore offers a range of paediatric health care services across Canada for children and youth in their homes, at school or daycare, and where appropriate, on community outings. With over 350 paediatric nurses, our program serves provincial health and regional health authorities.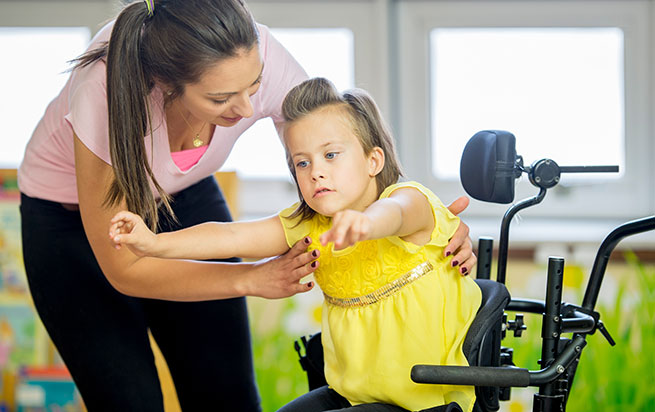 When caring for children and youth, we work together with our young clients and their families, healthcare professionals, community partners and our internal team to develop an approach that is:
Individualized
Responsive
Respectful
High-quality and safe
Child, youth and family centred
Culturally appropriate
Integrated and collaborative
Reflective of evidence-based practice
Equitable
Accountable
Trusting and nurturing
We believe the quality of services is achieved through holistic partnerships and teamwork. Using feedback from clients, families and care staff, our approach to service delivery is compassionate, empathetic, respectful and reflective of care practices that are aligned to standards of safety, quality and effectiveness.
Our Family Advisory Network (in BC) was established to ensure we are improving the client and family experience. In 2017, Accreditation Canada awarded our Bayshore Paediatric Specialty Care Program (BC) with its highest level of achievement, the Exemplary Award. This award is a reflection of the dedicated and expert work performed by our paediatric team, focused on quality, managing risk in a community setting, supporting families to be families, and successful client outcomes.
Our Services
Bayshore provides a range of services for paediatric clients:
Visiting and shift nursing paediatric services in various settings including home, daycare, school, and residential hospice for for medically complex and fragile children, and children needing palliative care
Diabetic program for children in school
Oncology program for children receiving chemotherapy
Children's public health programs including immunization programs
Infusion pharmacy, medical supplies and medical equipment services
Services to children with acquired brain injury, such as nursing, personal care and rehabilitation therapy, including speech language services
Services to children affected by a motor vehicle accident (MVA) or malpractice,
Diabetes care, tracheostomy care, supported ventilation (ventilator, BiPAP, CPAP), peritoneal dialysis (PD), seizure disorders, enteral feeds (G or J tubes), oral suctioning, catheterization, oncology care, CVAD line care, challenges related to growth and development
In addition to providing comprehensive health care services, Bayshore's Quality Management Process supports the identification of safety hazards that pose risks to clients and their families. Our approach helps to manage complex care in the home or community setting allowing parents to focus on creating a positive and impactful family life.
Our locations
Our funders and partners
Our contracts supporting paediatric care include:
Many of the Local Health Integrated Networks across Ontario
Federal government within Indigenous communities across Canada
Children and Women's Health Centre of British Columbia
Darling Home for Kids
Municipally funded government programs
Provincially funded complex care programs
Regional hospital coordinated infusion pharmacy programs
Community Living BC
Ontario Ministry of Education
Department of Social Development, New Brunswick
---
For more information, please contact
Janet Daglish
National Director, Business Development and Government Relations
T: 905-822-8075 Ext. 32282
E: jdaglish@bayshore.ca