Programs to keep employees healthy and productive
The needs of every employer are unique and our programs are completely customized to provide the right solution. Bayshore works with employers across Canada to develop prevention strategies and disability management programs that focus on keeping employees healthy and productive at work.
Our Services During COVID-19: Take Advantage of Virtual Services
The COVID-19 pandemic has disrupted just about every aspect of daily life, including the activities that Canadians do to improve or maintain their health and well-being. The rules of social distancing, self-isolation and self-quarantine mean that many people are staying home – as they should, to help prevent the spread of the coronavirus.
We are is expanding on our existing range of virtual therapy services, which you can access from the comfort of your own home.
These services include Occupational Therapy, Physiotherapy, Speech & Language Pathology, Mental health support, Cognitive rehabilitation, Job Coaching, Ergonomic Assessments and more.
Contact us today to learn more and to book your virtual therapy services:
Call us at 1-844-203-4534  or email rehab@bayshore.ca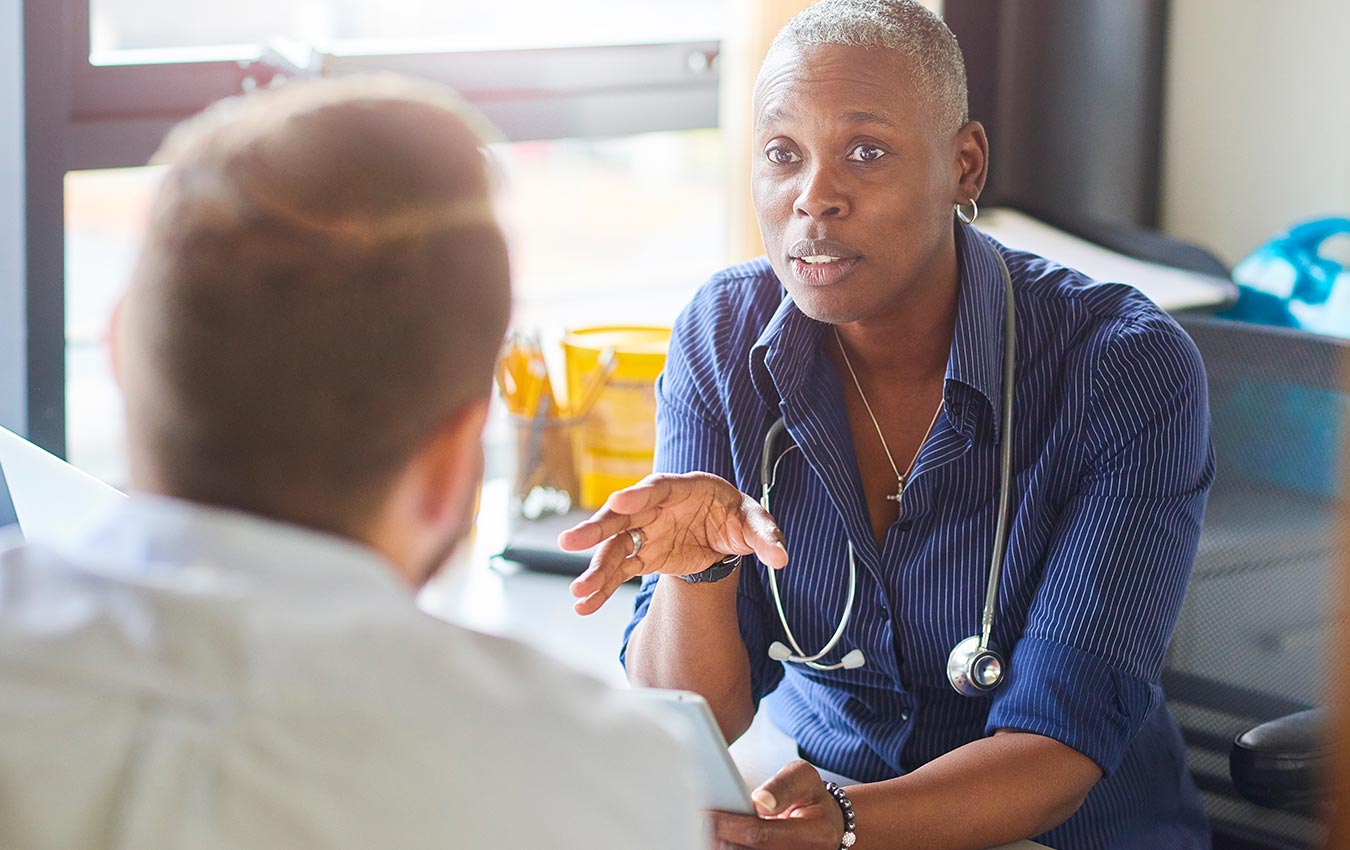 Today's workforce deals with increasing mental health issues, aging employees, and chronic conditions
Bayshore works with employers to develop disability management programs that focus on keeping employees healthy and productive at work. When an employee is on medical leave, our early intervention services will facilitate a timely and safe return to work program. We engage the worker, the manager, the union, the insurer, and other parties as appropriate to ensure a successful resolution.
Bayshore Employer Services are comprised of 4 key areas:
Occupational Medicine & Preventative Services
Pre-employment Screening
Medical Surveillance Testing
Mental Health Solutions
On-site Nurses and Physicians
Policy Design
Employer Assessment Services
Functional Capacity Evaluations
Cognitive Abilities Evaluations
Ergonomic Office Reviews
Ergonomic Risk Evaluation, Training and Education
Physical and Cognitive Demands Analysis
Independent Medical Examinations
Rehabilitation & Disability Services
On-site Rehabilitation
Early Intervention Programs
Casual Absence Management
RTW Case Support
Cognitive Rehabilitation Programs
Last Chance Agreements and Monitoring
Wellness & Lifestyle Services
Online Health Portal
Biometric Screening Clinics
Health Promotion Education
Health Coaching
Vaccination Programs
Our services are designed to:
Reduce durations of Lost Time Injury
Expedite Modified Work Programs
Bridge the gap between a treating physician's recommendations and return to work
Prevent Workplace Injury and Illness
Reduce the total costs of absences in the workplace
Improve your NEER / Workers Compensation
Our services include:
Absence Management Solutions – Bayshore Absence Management Solutions assists employers by delivering strategies and services designed to reduce the costs and the associated impact of absence and disability in the workplace. Our programs optimize function and health which results in a present and productive workforce. The needs of every employer are unique and our programs are completely customized to provide the right solution. We can assist with casual absence and accommodation requests as well as following workplace injury or return from medical leave.
Disability Management Services – Our disability management services include a home assessment of the employee's function and identification of barriers preventing the employee returning to work. We also meet with treatment providers and develop a strategy for successful resolution, in collaboration with the employer and the union.
Mental Health Return to Work – When the rehabilitation process enters the return-to-work phase, our Resiliency@Work Program is effective for individuals experiencing mental health issues as a primary barrier to staying at work or returning to work.
Vocational Assessments – Our Vocational Evaluators complete a comprehensive assessment to identify employability and alternative job options consistent with a client's aptitudes, interests, values, skills, education, training, work experience, physical, cognitive, psycho-emotional status and functional abilities. A transferable skills analysis may be included in addition to a labour market survey.
Ergonomic Services – Our ergonomic assessments are provided at the work site to help prevent injuries and/or to support the employee to return to normal duties.
Functional Abilities Evaluations (FAEs) – Our WorkWell FAEs are a comprehensive and objective assessment of an individual's work tolerance and ability to perform work-related tasks. We offer a 1 or 2 day FAE and can customize to meet unique requirements for a particular job function.
Work Site Assessments – Our therapists complete a comprehensive evaluation of a client's workplace and detailed report outlining essential job duties, physical and social environment, ergonomic concerns and specific job demands.
Job Demand Analyses – We objectively quantify and evaluate the environmental conditions, the use of machines, equipment, tools, and work aids, as well as the physical, cognitive, psycho-emotional and behavioral demands of each task.
Progressive Goal Attainment Program (PGAP™) – The PGAP™ is an evidence-based treatment program targeting psychosocial barriers to recovery and rehabilitation for clients suffering from debilitating health or mental health conditions. It contributes to a successful return to work for individuals with back pain, whiplash, fibromyalgia, cancer, depression, and PTSD.
Accommodating Employees with Early Onset Dementia 
Dementia can impair employees in their prime working years.  Employers may notice changes in an employee's performance such as frequent absences or signs such as repetitive conversation or struggling to find the correct words, missing deadlines, and

meetings or losing items.  Employees may have noticed these signs impacting their ability to focus and complete their work tasks and keep motivated at work. We provide specific accommodation strategies to assist both the employer as well as employee facing this situation.