Virtual Reality: The Next Frontier for Dementia Care?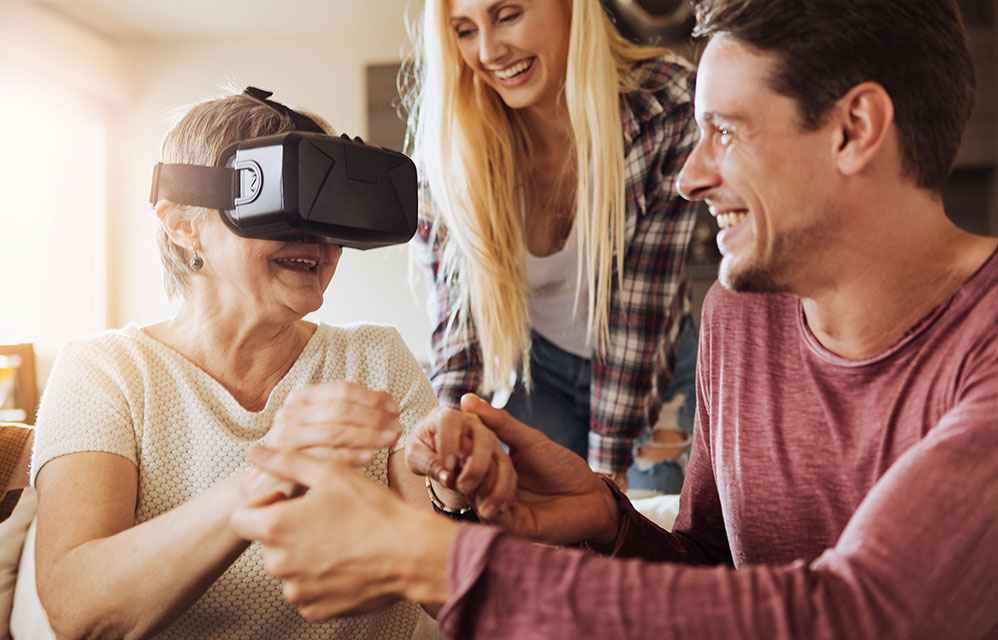 Virtual reality (VR) is a computer-generated, three-dimensional environment that users can experience with special equipment. Put on a high-tech headset and you're instantly immersed in a different world, one that you can explore and interact with. The setting can be literally anywhere, limited only by a VR developer's imagination.
You may have heard of virtual reality in the context of video gaming. Not only has the technology shaken up that industry, but it's making in-roads in other sectors, from health care to automotive, military, manufacturing, architecture, sports, entertainment and retail. As VR equipment becomes more affordable over time, we can expect to see even greater adoption of this powerful and exciting technology.
Virtual reality in health care
We're just starting to discover VR's health care possibilities. It's already being used to educate medical students, who are watching operations filmed with a VR camera, and experiencing simulations of what it's like to be elderly (an initiative meant to foster empathy).
Researchers and companies are studying how VR can help hospital patients relax or prepare for surgery, and how the technology might improve treatment for people with autism, chronic pain, traumatic brain injuries, post-traumatic stress disorder and low vision. Researchers are also exploring VR's potential role in cancer care, mental health, addictions, nursing training, staff burnout and dementia care.
VR for people with dementia
How can virtual reality benefit people with Alzheimer's disease and other types of dementia, which affect nearly 50 million people worldwide, including more than 400,000 Canadians? Here are some of the applications already under way:
Safety first
Research into VR's health care applications is still ongoing – it's much too soon, for example, to prescribe VR as a form of therapy for Alzheimer's and other types of dementia.
If you have virtual reality equipment, exercise caution when introducing it to your senior loved one. While many VR environments can be soothing or stimulating in a positive way, it's also possible that people can become upset or overwhelmed by the technology, including the tight-fitting headset. Seniors who already suffer from disorientation or confusion may not understand what's happening.
Always pay attention to the safety warnings provided by VR manufacturers. Some VR users (of any age) experience negative effects such as eye strain, nausea, motion sickness or headaches. People with health conditions such as heart problems, psychiatric disorders and vision abnormalities should see a doctor before trying VR. Users can also have physical accidents, such as losing their balance and falling, while using VR – always think safety first!
If you're concerned about your senior loved one's quality of life, consider home care services. Bayshore Home Health offers companionship, housekeeping, transportation, personal care and other services to help seniors live independently for as long as possible. Call 1-877-289-3997 for more information.
Additional resources