Great gift ideas for people living with dementia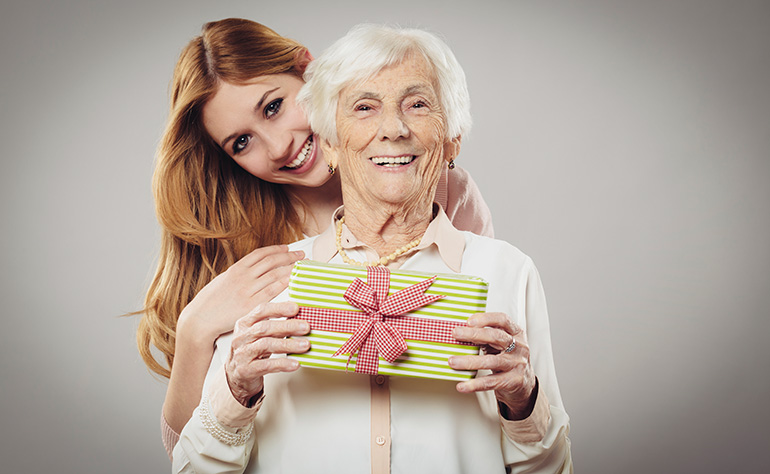 Great gift ideas for people living with dementia
Finding the perfect gift for everyone on your holiday list or for a special occasion is a great feeling, especially when you see someone's face light up when they open it. It is particularly rewarding when the gift is for a loved one with dementia. There are lots of great gift ideas for people at different stages of the disease – early, middle and late – that are both fun and practical.
Early stage gifts
In the early stage of dementia, most people are still fairly independent and able to do most things with a little help. Common symptoms are memory loss, trouble remembering new information, confusion and difficulty having a conversation. Choose a gift that encourages mental stimulation and maintaining interests, skills and abilities, such as:
An outing to a movie, play, concert or sporting event
Crossword puzzle books or strategy games
Magazine subscriptions or books that reflect their interests
DVDs of favourite movies or TV shows
CDs of favourite music or show tunes
A photo album or calendar that features family photos and memorable events (add in the dates of family celebrations on the calendar)
A digital clock with time and date in large type
A gym membership or sessions with a personal trainer
A memory phone that can store photos with the names and contact information of friends and relatives
A craft such as scrapbooking that you can do together
A pocket-sized diary or notebook
Middle stage gifts
In the middle or moderate stage, people may have more severe memory loss, disorientation, spatial problems and require help with activities of daily living, but they may also be somewhat aware of their condition. Gifts that stimulate the senses, promote reminiscing and focus on the familiar are good choices. For instance:
Simple craft activities or adult colouring books
Scented lotions or toiletries
Simple games or puzzles
CDs of favourite music
Framed photographs or photo collages labelled to identify people
A digital photo frame loaded with family photos
Nature DVDs or picture books that feature visual and auditory stimulation
A DVD of old family movies or photos
Comfortable and easy-to-remove clothing such as a sweat suit or shoes with Velcro fasteners
Late stage gifts
During the late stages of dementia, people often develop severe difficulties with reasoning and language, but they still have their senses of taste, touch and smell. Simple gifts that provide sensory stimulation can help bring back pleasant memories. Gifts that enhance physical comfort are also ideal. For instance:
A doll or cuddly toy
Responsive stuffed animals that speak or move with an easy press button
A fluffy bathrobe in a favourite colour
A soft blanket or afghan
A nightgown or nightshirt
Make or buy a "fidget" lap blanket/quilt with buttons, zippers, beads, and fuzzy and silky fabrics
Make or buy a "Twiddle Muff," a hand muff adorned with an array of gadgets to keep hands warm and busy
A hand massage with a favourite scented lotion
CDs with songs from childhood and teen years (research shows that music has a positive impact)
Photographs and music are gifts that can revive memories and feelings of joy for people at all stages of dementia. So can the gift of your time, caring and attention.
If you or your loved one need a helping hand at home, Bayshore can help. Our caregivers are trained and certified to care for individuals with dementia. Learn more about our Dementia Care services.