New program at Bayshore Pharmacy is a win for efficiency and the environment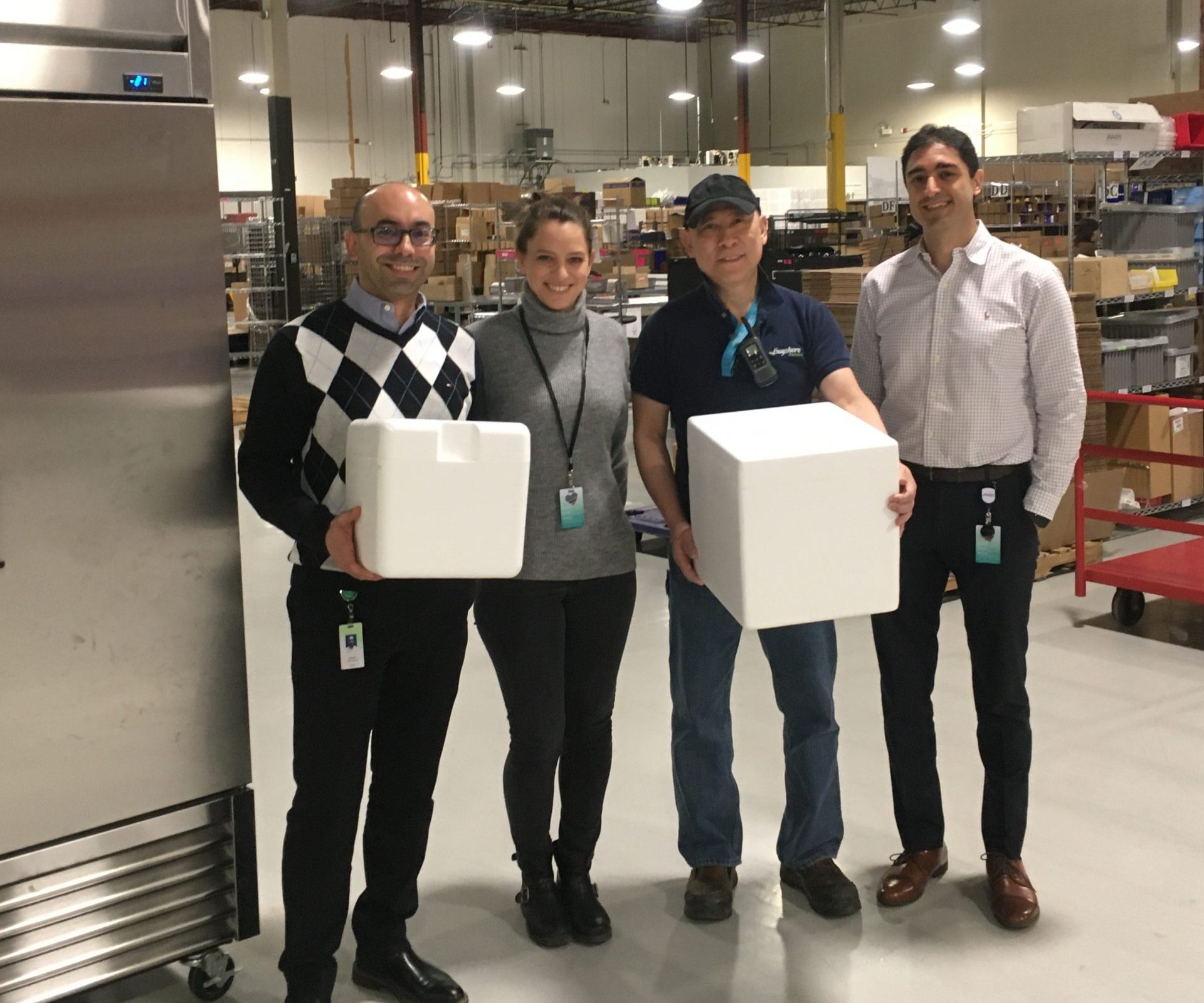 Photographed left to right: Andrew Bakhit, Director Pharmacy Services| Helene Devuyst, Senior Operations Manager|
Sill Ming Lee, Receiving Team Lead |Amir Ghassemi, Manager Specialty Pharmacy
Bayshore Specialty Rx recently launched a program to collect the Styrofoam coolers it uses to deliver medications to patients' homes and medical clinics. As of November 11, recipients can send the coolers back via FedEx, shipping prepaid by Bayshore, at their convenience. And it's working: since the program's launch, Bayshore has been receiving an average of 75 coolers per day.
"Previously, there was no consistent way to return the coolers," says Amir Ghassemi, Manager of Specialty Pharmacy at Bayshore Specialty Rx. Some coolers found their way back with the drivers who delivered them. A few were shipped back by patients at their own expense. Typically, however, they were discarded.
The coolers, which measure 8 x 8 x 11 inches, are needed to protect fragile, high-cost specialty
medications. Many of the drugs require special handling or storage, including refrigeration, to remain stable and fit for use. The Bayshore Specialty Rx team explored other kinds of packaging, but Styrofoam provides the best insulation. When filled with frozen and chilled gel packs (the mixture depends on the season), the coolers can keep their contents between two and eight degrees Celsius for up to three days. That's significantly longer than, say, a grocery delivery service would require.
"Because we're shipping mostly overnight, the medication has to be stable for a long time. We aim for 48 or 72 hours, just in case of bad weather or a missed connection," explains Andrew Bakhit, Director of Pharmacy Services. "After a recent snowstorm, for example, some deliveries were delayed until the next day."
Some Styrofoam products, such as restaurant takeout containers, are recyclable, but the coolers are not. Bayshore Specialty Rx sends out thousands of coolers each month, so the team was keen to find a way to cut back on waste and help the environment.
Ghassemi developed a robust "reverse logistics" program in collaboration with FedEx. Helene Devuyst, Senior Operations Manager, assisted with planning and logistics. Now, with each cooler, recipients get a waybill that allows them to call for pickup whenever they're ready. When Bayshore Specialty Rx receives a cooler, warehouse staff inspect it carefully. Any damaged coolers are discarded.
In addition to improving efficiency and reducing waste, reusing the coolers is expected to lower operational expenses, says Bakhit. "The savings are quite substantial, based on the size of the coolers and the area from which we're getting them back."
Ghassemi adds that patients have been eagerly awaiting this program. "They're so excited," he says. "We've actually sent them extra shipping labels for the coolers they already had stored up at home."
Please note that this program has been paused due to the COVID-19 pandemic. 
Bayshore Specialty Rx, a division of Bayshore HealthCare, offers specialty pharmacy services, including the delivery of essential pharmaceutical drugs to our patients' homes. Learn more.