Hamilton Health Sciences Foundation and Bayshore Home Health celebrate 10-year partnership supporting vital care
HAMILTON, ON – June 29, 2021: To celebrate the remarkable 10-year relationship between Hamilton Health Sciences Foundation and Bayshore Home Health, the Waiting Room on the Inpatient Oncology Unit at Juravinski Hospital and the Dining Room at St. Peter's Hospital will be dedicated in recognition of Bayshore HealthCare.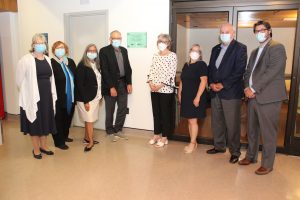 With a shared commitment to high-quality vital patient care, Bayshore Home Health (a division of Bayshore HealthCare) joined Hamilton Health Sciences Foundation's Care4 cause marketing program 10 years ago. Bayshore is currently one of the longest serving partners in this program.
While Bayshore's activation of the Care4 program has evolved over time, their dedication to patients and patient care has never wavered. The initial program was focused on supporting patients as they transitioned from St. Peter's Hospital to home.
Since then, funding received from Bayshore through the Care4 program has supported highest-priority needs across Hamilton Health Sciences. Over the years those priorities have included the purchase of vital equipment such as pain pumps, vital signs monitors and point-of-care ultrasounds along with support for programs like Hospital2Home.
"When we launched the Care4 program in 2010 and I looked at potential partners, Bayshore came to mind immediately. I remember meeting with the team in the fall of 2011. The natural synergy was apparent to both teams and they joined the program. They were passionate about wanting to support our work and we are grateful for their dedication and commitment," says Tamara Pope, Vice President, Marketing and Communications, Hamilton Health Sciences Foundation.
As Bayshore is one of Canada's leading home and community health care providers for seniors, Hamilton Health Sciences Foundation selected Seniors' Month to announce this recognition and highlight Bayshore's long-standing support.
"Bayshore is proud to have supported the Care4 program over the last 10 years and honoured to be recognized at Juravinski Hospital and St. Peter's Hospital," said Luanne Ellison, Area Director, Bayshore Home Health, Hamilton Branch. "By giving to this great cause and working with the Hamilton Health Sciences' team, Bayshore has contributed in many ways to programs supporting patients on their health care journey from hospital to home. This includes one-on-one bedside care in the hospital, helping patients prepare for the return home, and providing tailored care to each person once they are back in their home."
"Working with committed corporate partners through a cause marketing program is vital to our ability to support the patient care teams across Hamilton Health Sciences. We are honoured to recognize this long-standing relationship," says Pearl F. Veenema, Chief Executive Officer, Hamilton Health Sciences Foundation.
About Hamilton Health Sciences Foundation and Care4:
Hamilton Health Sciences Foundation provides vital funding to enable the best possible patient care. We inspire and motivate gifts that fund medical equipment and patient amenities, innovative research initiatives, essential redevelopment of clinical care spaces, and the education and training of health care providers.
As a registered charitable organization, we proudly support patients and families across south-central Ontario, and from outside the region, who receive specialized care at Hamilton Health Sciences including Hamilton General Hospital, Juravinski Hospital and Cancer Centre, McMaster Children's Hospital, and St. Peter's Hospital. The associated programs at the Regional Rehabilitation Centre, McMaster University Medical Centre and Ron Joyce Children's Health Centre are also included.
Care4 is an innovative fundraising partnership that empowers businesses to demonstrate social responsibility by making a financial commitment on behalf of their customers to Hamilton Health Sciences Foundation. The principle of the program is simple, yet powerful in its multiplier effect. When consumers make a purchase from a Care4 partner, a portion of the purchase directly supports patient care, education, research and equipment across the supported sites of Hamilton Health Sciences.
About Bayshore HealthCare:

Bayshore HealthCare is one of the country's leading providers of home and community health care services and is a Canadian-owned company. With locations across the country, including 65 home care offices, 13 pharmacies and 81 community care clinics, Bayshore has more than 14,500 staff members and provides care to over 350,000 clients annually. Its services are purchased by government care programs, insurance companies, workers' compensation boards, health care organizations, the corporate sector and the public. The Bayshore brand extends across three business divisions: Bayshore Home Health (medical and non-medical home care and staffing services), Bayshore Home Care Solutions (home care services for government care programs), Bayshore Specialty Rx (specialty pharmacy, infusion and pharmaceutical patient support services), in addition to two innovation teams: Integrated Care Solutions and Bayshore Digital. The company's goal is to enhance the quality of life, well-being, dignity and independence of Canadians of all ages. Bayshore HealthCare has been a recipient of Canada's Best Managed Companies award since 2006. In 2017, Bayshore HealthCare launched the Bayshore Foundation for Empowered Living to assist those living with illness, injury or aging reclaim or maintain their independence.
Media contacts:
Michael Cordeiro
Senior Marketing and Communications Specialist
Hamilton Health Sciences Foundation
Office: 905-521-2100 ext. 73374
Cell: 905-870-3987
cordeiromi@hhsc.ca
Patrick Callan
Manager, Corporate Communications & Public Relations
Bayshore HealthCare
416-770-1676
pcallan@bayshore.ca