Bayshore colleagues work together to bring parents from Ukraine to Canada
By Krystyna Oakman, Communications Coordinator
Olena Lakovenko and Iryna Dubak are colleagues in Bayshore's Financial Planning and Analysis department. They have always had much in common: they both started at Bayshore at the same time, they work closely together in their business partnerships at Bayshore, and they both happen to share the same Ukrainian hometown of Zaporizhzhia, a city where they once lived a mere eight-minute walk from each other.
A few weeks ago, these similarities united them at a critical time in their lives when Olena and Iryna coordinated a plan to bring their parents safely to Canada after Russia invaded Ukraine.
Their four parents are among four million Ukrainians who have left the country since the outbreak of war on February 24, 2022.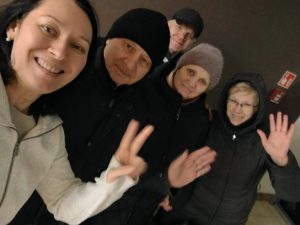 The plan came together quickly as events unfolded in Ukraine. It was decided that Iryna would meet their parents in Poland while Olena continued the coordination effort from Canada. The following week when availability came up, Iryna purchased a ticket to Poland and boarded the flight a few hours later.
"The main problem was convincing them that they had to leave everything behind," said Olena. "We figured out that by the time our parents made it to the border they would be exhausted. We needed someone to be there, to practically scoop them up. We were able to convince them to do that hard journey because they knew someone would be waiting for them on the other side."
For Olena and Iryna's parents, the journey began in the southwestern city of Zaporizhzhia, with the families boarding a train to Lviv in western Ukraine. When Olena's parents realized that the others were not on-board the train before departure, they all prayed for them to make it, as the attendant couldn't delay the departure a minute longer.
Three minutes before the train would depart, Iryna's family made it on board and were joined with Olena's parents. This was Olena and Iryna's parent's first time meeting each other and the start of a journey that would span several days. They would later find out that at the same railway station the following day only women and children would be allowed to board trains.
"I was sitting on a Zoom call with Iryna saying; 'What just happened? I have a feeling that we are changing the course of someone's life'," said Olena.
In a time of peace, the distance from Zaporizhzhia to western Ukraine takes about 24 hours. For Olena and Iryna's parent's it took 36 hours to arrive in Lviv. For the final leg of the journey, what was typically a two-hour train ride from Lviv to Poland took 18 hours, all of which was done standing up.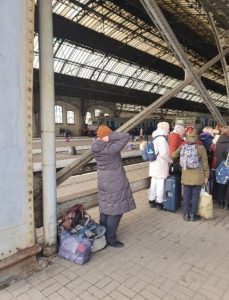 After watching the journey of her parents from afar, it was with profound relief that Iryna was able to meet them in Poland.
"They were all good friends by the time they got to that point," said Iryna. "Many times, they repeated that if it wasn't for each other, they probably would have stayed in their homes."
Throughout this process of working together to bring all four parents to safety in Canada, both Olena and Iryna also received an outpouring of support from their Bayshore colleagues.
"I saw a huge influx of emails with support expressing how everything we were going through was unjust and that they understood," said Iryna. "My team was very supportive. All of the kind words were really appreciated."
"We have an amazing team; a dream team," adds Olena. "Everyone was praying for us and sending all their thoughts which I shared with my family. The Bayshore family was helping us through this hard time."