People of Bayshore: Dheeraj Paul
Meet Dheeraj Paul, Bayshore's Director of Business Transformation. Since 2018, Dheeraj has been spearheading business innovation across Bayshore HealthCare. He has 18 years of experience leading large, integrated IT and Business Transformation portfolios in various industries, including healthcare,  education, and the public sector. Dheeraj is a certified professional in Project Management (PMP), Health Information management (CPHIMS) and holds an MBA from the University of Cumbria.
As part of our Digital Health Week 2022 celebrations, we sat down with Dheeraj to talk about digital innovation in home and community care and where he sees Bayshore's health technologies growing in the coming years.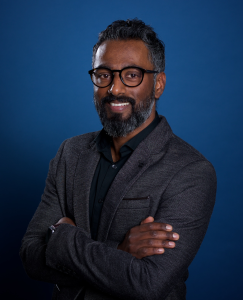 What is your role at Bayshore and what does that entail?
As the Director of Business Transformation, I lead the enterprise transformation of Bayshore and oversee the Bayshore Digital team. I'm always looking for ways to connect within our legacy systems and drive a better client experience through digital tools and technologies. I want to know what we can provide to our clients, patients, and families during their time of care that will make their experience better.
Of course, "transforming the enterprise" means looking not just at the client experience, but also our employee experience. My team and I are always looking for ways digital tools can be used to connect our vast organization.
Can you tell us a bit about the Bayshore Digital team and your leadership style?
The Bayshore Digital team is primarily focused on heightening the client and staff experience by leveraging design thinking, rapid prototyping, application modernization, the Cloud, Internet of Things, data, and by using competitive differentiation and new business models.
My team is very hard-working, nimble, and humble. They thrive on challenges and will go the extra mile to achieve what we need as a group. I am proud to manage such a diverse and knowledgeable team.
I would say that I employ a servant leadership philosophy in my work and in the way I lead. I give my team the autonomy to make decisions and give them ownership over the projects they work on. I believe this approach fosters an environment where we learn and pull from each other's strengths and be proud of our accomplishments as a unit.
What are some of your short and long-term goals for digital healthcare at Bayshore?
In the short term, we have been doing much work to innovate and modernize applications and infrastructure at Bayshore. We continue to build and scale out MyBayshoreCare and One Bayshore for our clients and employees. We will roll out digital experiences, supporting various care models that will establish us as an innovator in out-of-hospital care.
In the long term, My team and I will continue using a digital-first mindset to help streamline and augment patient engagement and connected care experiences. With that mentality in mind, I hope we can begin answering the following questions:
How do you become an ecosystem driver in out-of-hospital care?
How do we make a difference in the lives of our patients and their families?
How do we use digital technologies to become a truly world-class and connected organization??
Lastly, how can we use digital technology to connect our employees across the organization?
How is Bayshore best positioned to lead the transformation from hospital to home care in Canada?
I believe we are best positioned when we ask ourselves, "What is the optimal experience for someone receiving care at home?" In my opinion, this begins with having that person and their family caregivers connected through human and digital connections.
Bayshore is one of the incumbents in Canada when it comes to home and community care. Because of the size of our organization – 16,000 staff, 13 pharmacies and 100 community care clinics across Canada – we are lucky enough to have a huge network of employees and clients that can help us envision a new way forward. If we can continue to think about using technology, and build meaningful external partnerships in a transformative way, then I believe we will be best positioned to lead the transformation.
What's a fun fact about yourself?
When I'm not working, I love to spend time with my family and two Labradoodles, Winston and Hudson. I also have an active lifestyle, and am often busy playing soccer, badminton and cricket. The thought of swimming in the ocean terrifies me. I also volunteer and serve as a President for a small not-for-profit organization called Halton Malayalees Association.