People of Bayshore: Julia Tsiomaika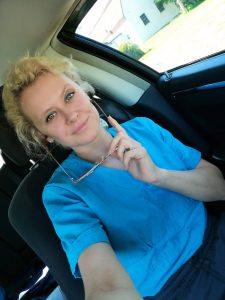 Julia Tsiomaika relocated to Canada in April 2022 shortly after Russia invaded Ukraine. After hearing about Bayshore from a friend, she drove down to the Cornwall branch and asked for an opportunity. Within a few weeks, she started as a Community Health Worker at the branch before transferring to Bayshore's Ottawa branch in December 2022. We recently spoke with Julia about her experience working at Bayshore.
What was the transition like moving to Canada and how did Bayshore support you?
I've always dreamt of living in Canada. I was happy to be in safe country without war and with my son and cat. The Cornwall branch is a wonderful and excellent team. They supported me with everything when I first got the job. I'm so happy to have started my career at Bayshore with the Cornwall team. I also receive the same support from the Ottawa branch.
What do you enjoy most about your job?
To me, it's not a job. My clients give me wings and I give them happiness. It's not only about physical care but about connecting with different souls. My job gives give me a reason to live! I know that my clients depend on me! They are the reason behind my love for this job.
What has been your most memorable experience working at Bayshore so far?
Every moment has been memorable because I get to communicate with different people. My clients are so special, each one of them. All my clients are my favourite. I have a client with Alzheimer's disease who waits for me every Thursday. When I was transferred to another branch, the client cried and asked not to leave him. He told me that nobody could ever replace me, ever.
So many of my memories at Bayshore bring tears to my eyes.
What is a fun fact about yourself?
I'm funny, full of vinegar.