People of Bayshore: Katie Hucklebridge
By Michelle Ramos, Communications Coordinator
Today, April 26, is Administrative Professionals Day. A day dedicated to recognizing administrative professionals' contributions in the workplace. To celebrate, we're shining a spotlight on Katie Hucklebridge, the receptionist for Bayshore's National Development Centre (NDC) in Mississauga, ON.
Administrative professionals like Katie perform various tasks, including managing schedules, organizing files, and coordinating meetings. They are often the backbone of an organization, ensuring that everything runs smoothly.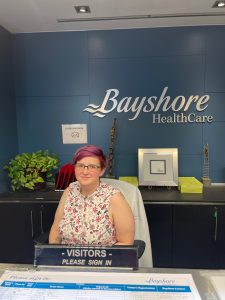 "My favourite part of being NDC's receptionist is knowing that every day will be different. My general to-do list may remain the same, but the callers, visitors, and extra tasks will change, giving each day new challenges," says Katie.
Katie starts her day at 8 a.m. with a hot cup of tea. Once she settles in at the front desk, she checks for client voicemails and determines the right office for their inquiries. As part of her role, Katie greets visitors at NDC, ensuring staff are alerted of visitors and sorting and distributing the mail that comes in throughout the day.
"Katie is a valued member of our team. She is reliable, kind-hearted and creates a calming presence at the NDC office and is always willing to help when needed," says Sherry Hnatyshyn-Webster, Managing Director of CareChart and Carepath, as well as Katie's manager. "She not only welcomes and manages visitors but is the first person on the telephone to greet many of our future clients, offering them an empathic and compassionate voice. She is a true joy to be around."
Before joining Bayshore, Katie obtained her bachelor's degree in social work with honours from Toronto Metropolitan University (formerly Ryerson University) and had been working with adult survivors of childhood abuse. The university recognized Katie's work by awarding her the Jacqueline and Howard Edelson Award, an award given to the student who has shown dedication to working with elderly members of the community with a focus on mental health.
"I am passionate about helping others without judgment. I try to be as accommodating as possible, so the other person feels seen, heard and appreciated," says Katie.
Using her passion for helping others, Katie also does volunteer work for Bayshore's charitable arm, The Bayshore Foundation for Empowered Living, which funds registered charities in local communities across Canada that support people living with injury, illness or aging and help them reclaim or maintain their independence.
"Through her background of working on social issues, Katie brings valuable experience to the Bayshore Foundation. Not only does she support us with exceptional administrative skills, but she is compassionate and understanding of the people we help through our charity partners," says John Lawrence, Director, Bayshore Foundation for Empowered Living. "She is dedicated to positively impacting the community, and we are immensely grateful for her contributions."
Thanks for all that you do, Katie!