Quebec Neighborhood Health Team concept gets back to the basics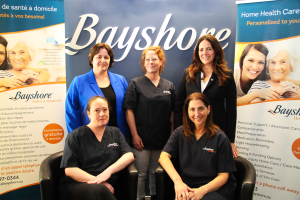 Bayshore Home Health's Quebec Consumer Private offices are excited to pilot a new model of home care, which keeps people in their homes as long as possible using a health team approach. This model has the proven ability to transform the home care delivery system by working on the principles of trust, autonomy, creativity, simplicity, and collaboration. While going back to the basics, it has the modern advantage of making maximum use of technology for communication and administrative work.
The Neighborhood Health Teams (NHT) model will uphold an inspiring vision of nursing by supporting clinical work and reducing regulations which hinder innovation.
"I have had the privilege of being a Registered Nurse for nearly 26 years," says Zoe Vernham, Director of Healthcare Innovation. "When I read a CBC article about new nurses often leaving the profession after just two years it made me think about the fundamentals of nursing care and what Bayshore could do to transform the way care is delivered. NHT is about getting back to the basics of being a nurse in the community. It is about trust, autonomy, creativity, simplicity, and teamwork. A neighbourhood health nurse can be the difference for the people in their community by understanding how to navigate the local healthcare system and by advocating for their patients and families from a place of knowledge and professional experience."
Nurses go out of their way to co-create care plans that suit individual clients and their families. Together they find the most efficient way to meet our clients' needs while always keeping family members and other care providers involved and informed. This personal approach to care is built on positive and respectful relationships.
Each nurse led team provides up to 336 hours of home care each week within a very focused  geographic area.  Customer insights data are used to select these areas. There is a minimum service of 12  hours per week required and clients receive a  customized mix of nursing and personal care.
The clients are usually older adults with chronic conditions, dementia, or in palliative care. Neighborhood teams provide the right amount of care using a simple common-sense approach and are built on a culture of curiosity and continuous learning.
To learn more about this program, contact: zvernham@bayshore.ca