A mother's journey of hope to support her son living with a rare disease
By Michelle Ramos, Communications Coordinator
Emily Atherton has worked with several individuals living with a rare disease over her decade-long career at Bayshore. While she is currently a Director of Clinical Management at Bayshore, Emily's interest in rare diseases started early on in her nursing career when she provided respite to a family with a child living with a rare disease. The cause really hit home when her own son received a diagnosis a couple of years later.
Emily's six-year-old son, Floyd, lives with a rare disease called MECP2 Duplication Syndrome – a rare neurodevelopmental disorder that occurs almost exclusively in males and is characterized by various symptoms including low muscle tone, potential intellectual disability, developmental delays, recurrent respiratory infections, speech abnormalities and muscle stiffness or rigidity.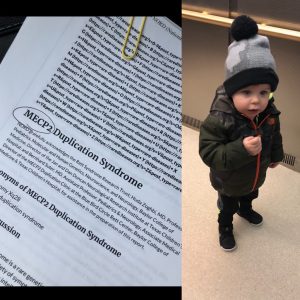 Floyd received his diagnosis at the age of two, after a variety of developmental concerns and infections. Emily still remembers the day she sat with Floyd as his pediatrician empathetically revealed that he had a disease he had never heard of before
"In my heart, I knew that something wasn't right, and as a clinician, I wanted answers to be able to support him in the best way possible," says Emily. "I will never forget the day he received his diagnosis. I received a call from his pediatrician asking to meet with me in person as soon as possible. We rode the elevator that day to meet him, not knowing that in a few moments our whole world would be turned upside down."
Emily says the doctor handed her some papers printed from the National Organization for Rare Diseases website and told her Floyd's diagnosis was considered terminal.
"He really didn't know what our future would look like, but the best advice he had for me was to never give up hope – to search the Internet and learn as much as I could, look for a support group for the disease on social media outlets, and to celebrate every milestone no matter how small," she says.
According to the Canadian Organization for Rare Disorders (CORD), one in 12 Canadians has a rare disorder and approximately three million Canadians and their families face debilitating disease that severely impacts their lives.
"Advocating for rare diseases is critical to spread awareness and advance future pathways for research, treatments, and ultimately patient support," says Emily. "When someone shares that they have cancer, diabetes, or dementia, the public immediately has a general understanding of what that may look like for the person. However, when someone with a rare disease shares their diagnosis, they are typically met with a quizzical look and need to extensively explain their condition—not only to the public but even to medical professionals."
Despite many challenges, Emily and Floyd have made connections around the world through online groups and taken part in research studies, which included travelling to Texas and Nashville from their home in New Brunswick.
Emily and her family are also raising money through their support group for a few very hopeful treatments that they hope can move through to clinical trials. The Bayshore Foundation, Bayshore's charitable arm, also recently donated $10,000 to CORD on behalf of Bayshore Specialty Pharmacy to support people in Canada living with rare disorders.
"My goal is to help Floyd live his best life – we try to ask ourselves how we can make it happen rather than is it possible," says Emily. "It has taken time as a mother to find the positive in a diagnosis that felt very gloom. But in doing so, I have been able to impact change in my community, support research in the rare disease space, and use my career in a positive way to support many families with rare children living in New Brunswick."
More information about MECP2, current research, and how to donate can be found at: https://curemds.org/ and https://mecp2d.org/resources-for-families/
Follow along Floyd and Emily's journey at: https://www.facebook.com/emily.saunders.73