Garrett Chisholm's story of Pride in the workplace
By Sahar Khan, Communications Coordinator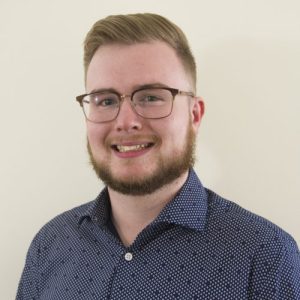 In a time where equity, diversity and inclusion are becoming increasingly crucial in the workplace, Garrett Chisholm's experience as a member of the LGBTQ2S+ community sheds light on the importance of acceptance and support. As a registered nurse, and now Director, Garrett has found an inclusive environment at Bayshore HealthCare that values his contributions and celebrates his identity.
From the moment Garrett joined Bayshore HealthCare as Healthcare Staff Supervisor, and now Client Services Director at Carecor Health Services in Halifax, he felt an overwhelming sense of support from both his managers and coworkers. He explains that diverse and inclusive values were deeply ingrained in the organization's culture, which continues to play a vital role in its success.
"Since day one, I've been encouraged to be myself and have been embraced for the experiences and knowledge I bring as part of the [LGBTQ2S+] community to the workplace," Garrett said. "It reinforces my decision to come work here. Bayshore implements programs and involves people, not just to show that they're doing something, but actually doing something effective and making people in those communities feel more comfortable."
This level of support is not always the norm, adds Garrett, and many individuals face hurdles when it comes to LGBTQ2S+ inclusion in the workplace.
"I have everything that I need at Bayshore," he says. "I have a supportive manager, a supportive team, and Bayshore has equity, diversity and inclusion events and initiatives. I feel like that's all we can really ask for. Just knowing that your employer values you as a person and tries to create awareness is all we need."
When asked about the driving force behind his career choice in healthcare, Garrett highlighted his inherent desire to work with and help people in need. This passion fueled his decision to become a nurse and later transition into a supervisory role. Garrett's journey revolves around constantly working with people and extending support to those who require it, providing an additional layer of understanding and empathy.
"I would describe [Garrett] as compassionate," said Rachel Lavallee, General Manager at Carecor Health Services. "Garrett has been a wonderful resource and safe space for many of our staff."
Garrett's advice for healthcare professionals caring for LGBTQ2S+ patients is rooted in empathy and education. He emphasizes the importance of seeking guidance from managers, supervisors, and coworkers who are knowledgeable and supportive.
"Asking questions for the purpose of education and learning about the [LGBTQ2S+] community is entirely appropriate," he says. He also encourages accessing diversity committees and inclusion programs that organizations often provide to gain insights and advice on providing the necessary support for LGBTQ2S+ clients.
Garrett's journey in healthcare exemplifies the transformative power of empathy, understanding, and education. By listening to patients and respecting their unique experiences, healthcare providers can create a supportive atmosphere where individuals feel comfortable being their authentic selves.
"It's about having conversations, pushing for awareness, and fostering a company culture that prioritizes diversity and inclusion," Garrett emphasizes.
As we celebrate Pride Month, Garrett Chisholm's story serves as an inspiring reminder that workplaces can be spaces of empowerment, acceptance, and growth for LGBTQ2S+ individuals. By creating an environment that embraces diversity and inclusion, organizations can pave the way for positive change and create a future where everyone feels respected, valued, and celebrated for who they are. Garrett's journey is an example for progress and an invitation to honour and support LGBTQ2S+ individuals, not only during Pride Month but throughout the year.
"We thank Garrett for being a leader in this space, along with many of us, and look forward to continuing our work to make Carecor a workplace that is truly inclusive and supportive," says Rachel.
Happy Pride from all of us at Bayshore!