Bayshore provides LGBTQ2S+ employee with fulfilling work and a voice
By Michelle Ramos, Communications Coordinator
For Mathieu Pamerleau, his job at Bayshore Specialty Rx has a very personal meaning.
"This role has allowed me to practice my work in a way that is consistent with my personal values and makes me want to be more involved with my patients," says Mathieu.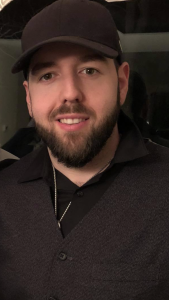 Mathieu is a Nurse Case Manager in Bayshore's Cabenuva program, which provides Cabenuva HIV Injection Therapy to community members with HIV. He also identifies as a member of the LGBTQ2S+ community.
"Placing employees in cases according to their interests and values is a great way to ensure their involvement in work," he says. "The development of different programs that can help the LGBTQ2S+ community, like the Cabenuva program, is exceptional."
Cabenuva is a new, long acting HIV treatment that decreases the amount of HIV in a person's body. This allows their immune system to work better and their quality of life to improve. Bayshore's Cabenuva program started in November 2022 and has helped to break down barriers to care by providing medication in a more convenient and accessible format.
"Mathieu being a member of the LGBTQ2S+ community brings unique and valuable insight to our patient population characteristics," says Maude Potvin, Pharmaceutical Program Manager and Mathieu's manager. "Moreover, Mathieu has a remarkable team spirit and his contribution to the team has been acknowledged by his peers. Having a HCP that is also close to our patient population is definitely an asset to understand the possible barriers to treatment and acting on it."
In addition to his work with the Cabenuva program, Mathieu also provides vital support to patients with a wide range of healthcare needs. He says he has never encountered difficulties related to his sexual orientation and gender identity at Bayshore. And he has always felt welcomed and supported by his peers.
"In 2023, we are fortunate to be able to discuss our personal situations so openly in the workplace. I have found Bayshore to be a welcoming company where I don't have to hide my differences," says Mathieu. "Bayshore gives us a voice to share our experience."
Mathieu has become an important advocate for healthcare access and equity. He uses his voice for those who are often marginalized in our society and works tirelessly to ensure that everyone has access to the care they need to live healthy and fulfilling lives.
"Maybe June is Pride Month, but this month should also be about celebrating all our differences and the pride we have in showing them to our peers. Awareness will always be necessary to maintain progress," says Mathieu. "Thank you, Bayshore, for giving us a voice and allowing us to work with causes we care so deeply about."