Aging and Accessibility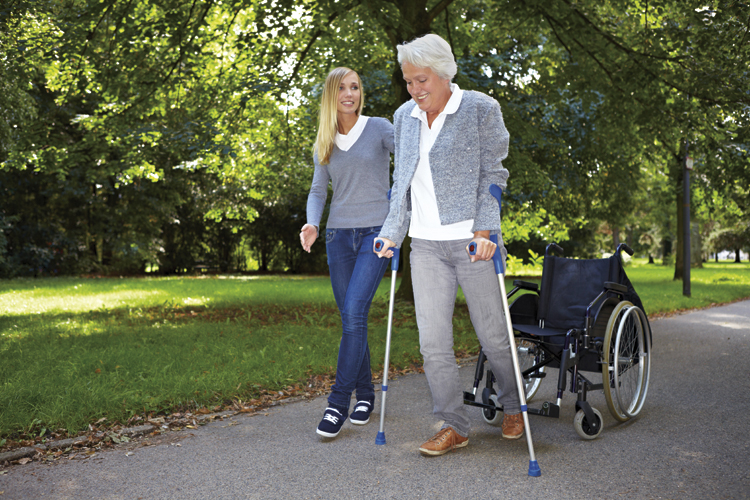 How age-friendly and disability-friendly is your community? Accessibility is something that many of us take for granted, until we or someone we know experiences having a disability, whether temporary or permanent. As our population ages, however, disabilities related to mobility, sight and hearing are expected to become more prevalent, making accessibility a more pressing issue.
This week (May 31 to June 6) is National AccessAbility Week, which takes place in Canada each year beginning on the last Sunday in May. It provides an opportunity to promote accessibility and inclusion, celebrate the contributions of Canadians with disabilities, and recognize the work of people who are helping to dismantle the barriers – physical and otherwise – that prevent people with disabilities from participating in all aspects of society. National AccessAbility Week also encourages us to reflect on the accessibility and inclusion of our communities, public spaces, and homes.
Disability in Canada
How common are disabilities in Canada? According to the most recent Canadian Survey on Disability, conducted in 2017, one in five Canadians over the age of 15 – or about 6.2 million people – identifies as having one or more disabilities; the actual number is likely to be higher.
Disability prevalence increases with age: 13% of youth aged 15 to 24, 20% of adults aged 25 to 64, 32% of seniors aged 65 to 74, and 47% of seniors aged 75 and older. The prevalence of different types of disabilities varies by age group. Among seniors, pain-related disabilities are most common, followed by disabilities related to mobility, flexibility, hearing, dexterity and seeing.
Disabilities are far from rare, yet accessibility remains an issue in communities across Canada. This is especially concerning in light of our rapidly aging population: in 2014, seniors made up 14% of the population; by 2036, they will represent a quarter of the population. Will accessibility improve enough to keep pace?
Anxiety about future disability
Many Canadians are already worried about how disabilities will affect themselves or someone they know. In 2019, the Angus Reid Institute and the Rick Hansen Foundation released a study, Accessibility: A source of future anxiety and a significant consideration for Canadian consumers today. "As Canada's population grows older, millions of Canadians find themselves worrying about decreased mobility, vision and hearing and the impact it may have on their own lives or the lives of loved ones," the authors wrote.
More than a third of the study's 1,800 survey respondents already had family members or close friends living with mobility, vision or hearing challenges, and more than two-thirds were concerned that someone in their lives would face such challenges over the next decade or so. Two-thirds of respondents were concerned about experiencing new or worsened disability/mobility issues themselves within five to 10 years.
Physical barriers to accessibility
The Angus Reid study also found that three in 10 people consider accessibility when thinking about where to go in their communities. The places most often avoided due to lack of accessibility? Other's people's houses, small/independent restaurants, small/independent stores, and movie theatres. When asked what physical features make these and other venues inaccessible, respondents mentioned: no elevator or too many stairs, doors that are difficult to open or don't open automatically, the lack of a ramp, narrow doorways and hallways, inaccessible washrooms and lack of accessibility parking.
Research has long shown that better accessibility is helpful for everyone, not just people with disabilities. Whether it's designing a new condominium or a new website, accessibility features make things more inclusive. Universal design – also referred to as inclusive design or barrier-free design – is "the design and composition of an environment so that it can be accessed, understood and used to the greatest extent possible by all people regardless of their age, size, ability or disability," states the Center for Excellence in Universal Design. "An environment (or any building, product, or service in that environment) should be designed to meet the needs of all people who wish to use it."
As Canada's Baby Boomers get older – the oldest are now in their mid-70s – they are reshaping the housing market, with greater demand for condos and smaller homes, as well as renovations for existing homes to make them more age-friendly. Canadians overwhelmingly prefer to age in place, though not all have taken steps to prepare for this. National AccessAbility Week is a great opportunity to think about what aging looks like for you and your family – and whether your home and community will meet your future needs.
Additional resources
Making an accessible Canada for persons with disabilities (Employment and Social Development Canada)
Age-Friendly Communities (Public Health Agency of Canada)
Thinking about aging in place (Employment and Social Development Canada)
Thinking about your future? Plan now to Age in Place – a checklist (Employment and Social Development Canada)
The Challenge of Growing Old in the Suburbs (Bayshore HealthCare)
Bayshore Home Health offers a wide range of home care services to help Canadians live independently for as long as possible. Contact us at 1-877-289-3997 for details.