Bayshore Foundation for Empowered Living acknowledged as Outstanding Community Partner by Cystic Fibrosis Canada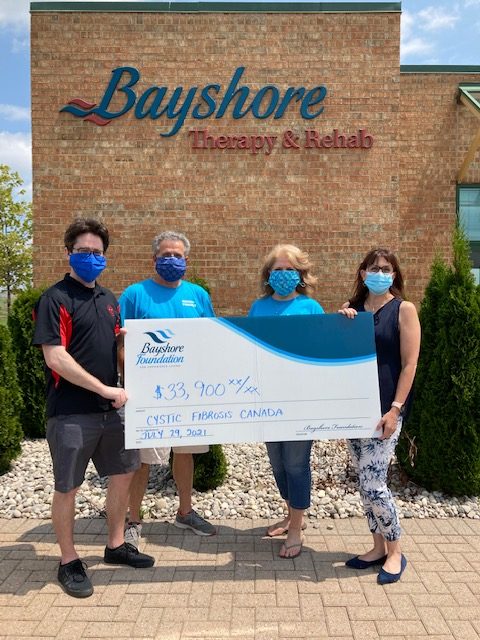 Mississauga, January 13, 2022: The Bayshore Foundation for Empowered Living, the charitable arm of Bayshore HealthCare, recently received the Outstanding Community Partner Award from Cystic Fibrosis Canada for its contribution to their Western Ontario chapter.
Bayshore is committed to Cystic Fibrosis Canada because for them it's personal. A member of the Bayshore Therapy and Rehab team in Windsor, Christopher Beausoliel, was diagnosed with Cystic Fibrosis at the age of five. Now, as an adult, Christopher speaks regularly to raise awareness of this disease.
The Bayshore Foundation has partnered with Cystic Fibrosis Canada Western Ontario chapter for three years. During this time, it has provided matching funds to one of its largest fundraising walk teams, Mission: Possible.  Any donation made during the walk through the Bayshore Foundation was matched up to 50%. This year, Bayshore grew their maximum match contribution to $20,000 in support of the walk and with their support, have assisted in raising over $59,000 since 2019.
The award was accepted by Cheryl Metcalfe, Area Director for Bayshore Therapy and Rehab in Windsor. "Bayshore Therapy & Rehab Windsor chose Cystic Fibrosis Canada as our charity because of Chris," remarked Cheryl at the recent award ceremony. "We do this all for Chris and his family and our ability to provide generously is because of the hard work of his family and especially his mom Ann-Marie."
To read more about Chris here:   https://www.cysticfibrosis.ca/about-us/cf-champions/christopher-beausoleil
To learn more about Bayshore Foundation, or to donate to one of the over 60 charities it supports, click: https://bayshorefoundation.ca/get-involved/
*******************************************************************
Bayshore HealthCare is one of the country's leading providers of home and community health care services and is a Canadian-owned company. With locations across the country, including 82 home care offices, 14 pharmacies and 100 community care clinics, Bayshore has more than 16,000 staff members and provides care to over 350,000 clients annually. Its services are purchased by government care programs, insurance companies, workers' compensation boards, health care organizations, the corporate sector and the public. The Bayshore brand extends across three business divisions: Bayshore Home Health (medical and non-medical home care and staffing services), Bayshore Home Care Solutions (home care services for government care programs), Bayshore Specialty Rx (specialty pharmacy, infusion and pharmaceutical patient support services), in addition to two innovation teams: Integrated Care Solutions and Bayshore Digital. The company's goal is to enhance the quality of life, well-being, dignity and independence of Canadians of all ages. Bayshore HealthCare has been a recipient of Canada's Best Managed Companies award since 2006. In 2017, Bayshore HealthCare launched the Bayshore Foundation for Empowered Living to assist those living with illness, injury or aging reclaim or maintain their independence. https://www.bayshore.ca/