For the Love of Reading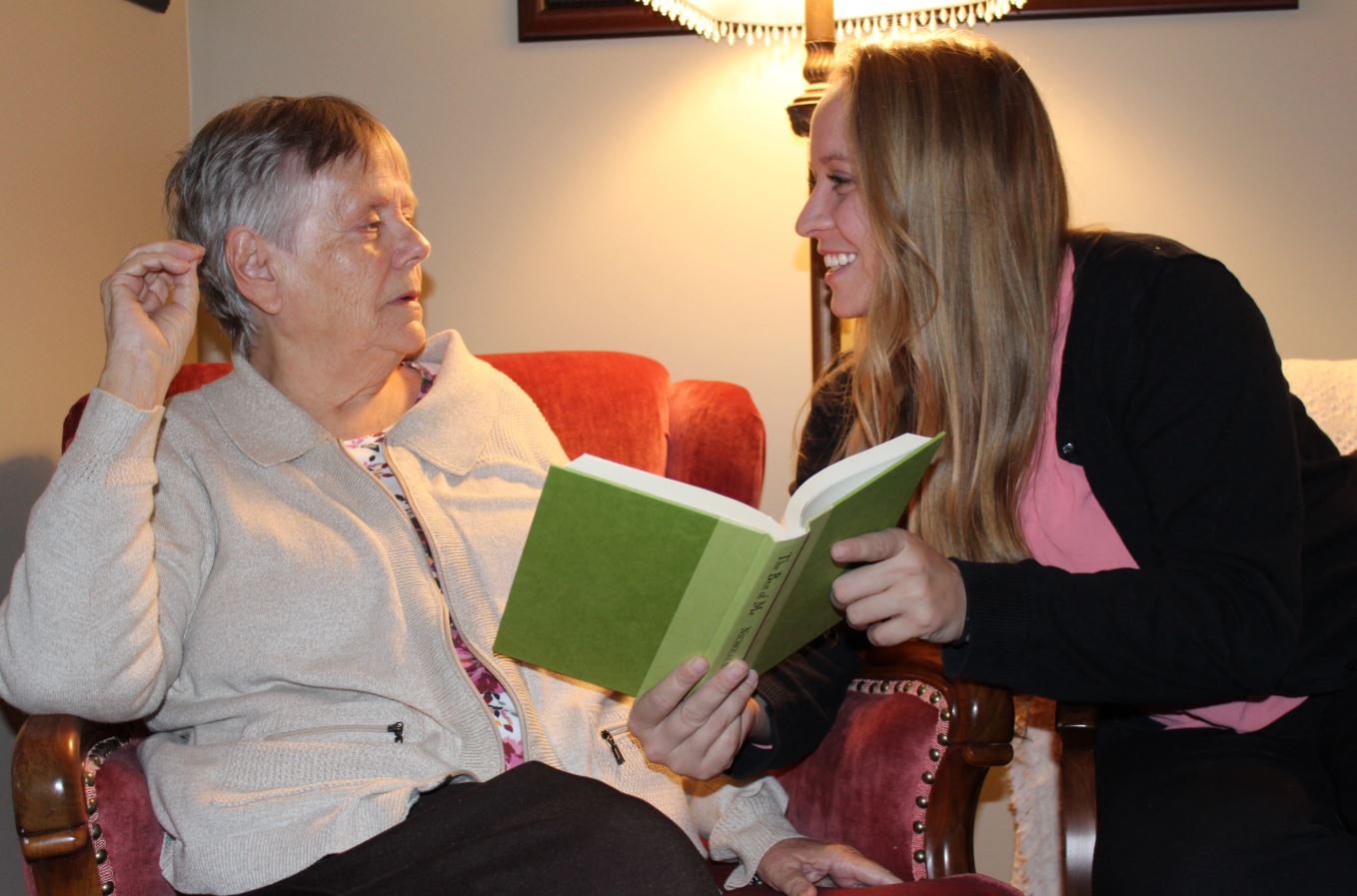 Q&A with Rachel Thompson, Founder of Marlena Books
In previous blog posts, we've discussed the communication challenges  that affect people living with Alzheimer's disease and other types of dementia, including difficulty with reading. Now we'd like to introduce you to Rachel Thompson, a young entrepreneur whose start-up company, Marlena Books, is creating dementia-friendly books to help people keep reading and enjoying stories.
You started Marlena Books in your final year of study at the University of Waterloo, inspired by your experiences with your grandmother. Can you tell us about that?
My paternal grandmother has lived with dementia for about 12 years now. She was diagnosed before I started high school, and my university years and my relationship with her were shaped by watching how dementia affected her. A large part of our relationship had to do with reading – our family are big readers – and we'd go to Chapters for grandmother-granddaughter dates. By my last year of university, she was no longer able to read books. I thought, "This is part of the dementia process," and I didn't think much about it until we were at her house one day and she read a newspaper headline out loud. And I thought, "Oh, my gosh, you can read!"
I researched more about reading and dementia, because I thought this must affect not only my grandmother. But when I went online to buy a book for her specifically made for someone living with dementia, I couldn't find anything. That's when the idea for Marlena Books was born. The name "Marlena" is a combination of my two grandmothers – Marilyn, who lives with dementia, and Helena, who was battling breast cancer and has since passed.
How did you learn about creating books for people living with Alzheimer's and other types of dementia?
I knew nothing about publishing books! University of Waterloo has a couple of accelerator programs on and off campus, because they have such a big entrepreneurial mandate. GreenHouse at St. Paul's University College is specific to social enterprises – companies hoping to give back in some way. I was about to graduate, and they had a competition specific to my faculty, which was applied health sciences. You just had to come with an idea, and you didn't need a business plan. I applied for it, went home for Christmas break, and didn't think about it again until I was accepted into a six-week workshop in the new year. That culminated in a pitch presentation, and I was one of the four winners invited to their summer program.
I stayed on campus, went to workshops and built our business plan. GreenHouse connected me with printers and publishers to learn about getting a book off the ground, and I did a lot of independent work on self-publishing. So it was a combination of independent work and teaching and connections I was able to obtain through GreenHouse.
What features of the books were designed with dementia patients in mind?
We looked at the whole process, and I think that's one of the things we got right. We didn't just look at the cognitive decline in users and how to address those issues; we looked at the whole person. Older adults often have comorbidities, including vision decline and loss of dexterity. So we talked to researchers on campus and did research online.
Physical features of the books include text that is CNIB approved, so people with some form of vision loss can read it. The books also have hard covers and thicker pages for adults with dexterity issues. And we made sure the books were dignifying for individuals with dementia. I noticed, because we'd just moved my grandmother into long-term care, that the books available there were children's books, and a lot of people wouldn't pick them up because they're not that interesting for older adults. So, we made our books look like novels – they're the same size as regular books – and the stories are interesting.
We worked with researchers at the university's optometry school to learn about eye-tracking changes in individuals with dementia. Our books have larger margins, and the text takes up only half the page. In our testing, we found that people were overwhelmed when they saw a full page of text. Blank areas help them focus on the words, and the facing page has a picture. The books also have prompts to turn the pages.
The reading level is Grade 5, which is accessible to most individuals. The books are short, and they can be read by a person with dementia in 10 to 15 minutes – so there isn't the problem of reading a chapter and coming back the next day having forgotten what you read.
How many titles has Marlena Books published?
We have 10 titles, available on a rotational schedule – a few are seasonal. Our core titles, such as the ones about gardening or a love story, are popular throughout the year. We just finished writing a story about farming, which is coming out in October. In November, we're releasing a story about football.
How do you choose your stories?
There was definitely a learning curve. At first, we thought we knew what older adults liked, so we started with the love story and gardening. Then, while doing testing with users, we started getting suggestions we wouldn't have thought of. They were asking for stories that had things about their life. So, we published a story about construction because a lot of people in long-term care had had construction done on their homes. Another request was for birdwatching. A lot of older adults spend time looking out their windows at birds. So now we ask our users what they're interested in, and we source all of our stories from them. One we frequently get asked for but have yet to release is murder mysteries!
How have customers responded to your books?
Most of what we hear is really positive feedback. People are amazed at first that their loved one is able to read. A daughter wrote to us that reading Marlena Books gives her and her mother special time together, and also allows her to follow her mother's cognitive changes. And a lot of times, because the stories relate to the reader's interests, the books bring up reminiscences, and the person starts talking about something related to the topic.
We've seen that with my own family. When you have a loved one living with dementia or entering a care home, it becomes harder to find ways to connect with them. When my grandmother moved into care, my dad would visit and get frustrated. He felt like it was a waste of time, because she wasn't acknowledging him and they couldn't do anything together. So, we started sending him with the books. He could read to her, and then they could talk about things and connect in that way, so he feels better about it now.
What advice can you share with family members and other caregivers who wish to help their loved ones who have dementia to keep enjoying books and reading?
The number one thing we notice when working with families is that they are the most stigmatizing groups for individuals with dementia. They're often the ones who say, "Oh, no, they can't do that" or "I haven't seen them do that in a long time."
If your loved one has dementia, keep trying things they're interested in. If their ability to participate has changed, try new ways to engage with them. If they're interested in reading, try different formats. If their dementia hasn't progressed enough that they need our books, try magazines instead of newspapers, or try large-print books or shorter stories. There are also cool features in e-books, like changing the font size.
Don't be afraid to modify things. People are often afraid to give loved ones books intended for younger readers because they don't feel it's made for them, but if they're still reading well, and it's a stepping stone that keeps them reading, that's great. And lastly, there's more than one way to read. Whenever someone orders our books, we include a handout with four ways to use them. Some people read independently, but others need more support. For example, you can point out words with your finger, word by word, which helps with eye tracking.
In long-term-care facilities and libraries in Kitchener, we took the initiative to introduce book clubs, with a grant from the federal government. We do different things – each person reads one page of a book, or we read a story and discuss it together. So, if there's an activity that your individual with dementia enjoys doing, keep an open mind about how they can participate, and don't give up. Modifications can make a world of difference for someone with dementia.
In 2018, Marlena Books launched an app for the Apple iPad. Why did you decide to create an app?
Although we love the idea of physical books and really stand by that, they're only able to capture a certain group of people with dementia, reading at that reading level and that length of book, 30 to 45 pages. The app is a way to expand what we offer and incorporate more users. It has a lot of accessibility features for people whose dementia is more progressed, like automatic page turning, and audio reading for those who can no longer read on their own. The stories are personalized with the reader's name as the main character, which we found very impactful. We can also modify the reading level from the standard Grade 5 level up to Grade 8 or down to Grade 3. That's been really nice, to capture more users.
In our testing, we also found other user groups who could use the app, mostly people with Parkinson's or Huntington's – any disease that has tremors. Holding a physical book is very challenging for them, but the app's page-turning and audio-reading features make it hands-free. When we set it up for them, they were able to move through the story. It's something we wouldn't have thought of.
On the back end, we're tracking data about how often people are reading and what accessibility features they're using. We send reports to care homes and families. We're looking at adding more assessment-type tools in the future to help homes understand the needs of people in their care. We're also hoping to release a version of the app for Android.
What's next for Marlena Books?
We're based in Canada but actively expanding to the United States – we're in 18 states now. Next is other English-speaking countries. Australia is doing great work in the dementia space, so we're excited to work with them. We're interested in adding other languages, like Japanese. Japan has high rates of dementia and great senior care programs. We also plan to add more features to the app, taking what we've learned from users and giving them the best experience. Hopefully we can stay one step ahead of the growing dementia market and improve quality of life in any way we can. We're a young team, hungry to make change, and that is super-exciting for us. We learn a lot from our users and our community, and we're excited to see what will happen next.
For more information about Marlena Books, visit marlenabooks.com.
Bayshore Home Health offers a wide range of home care services, including dementia and Alzheimer's care, to help Canadians live independently for as long as possible. Contact us at 1-877-289-3997 for details.