Weighing the benefits of Home Care vs. Long-Term Care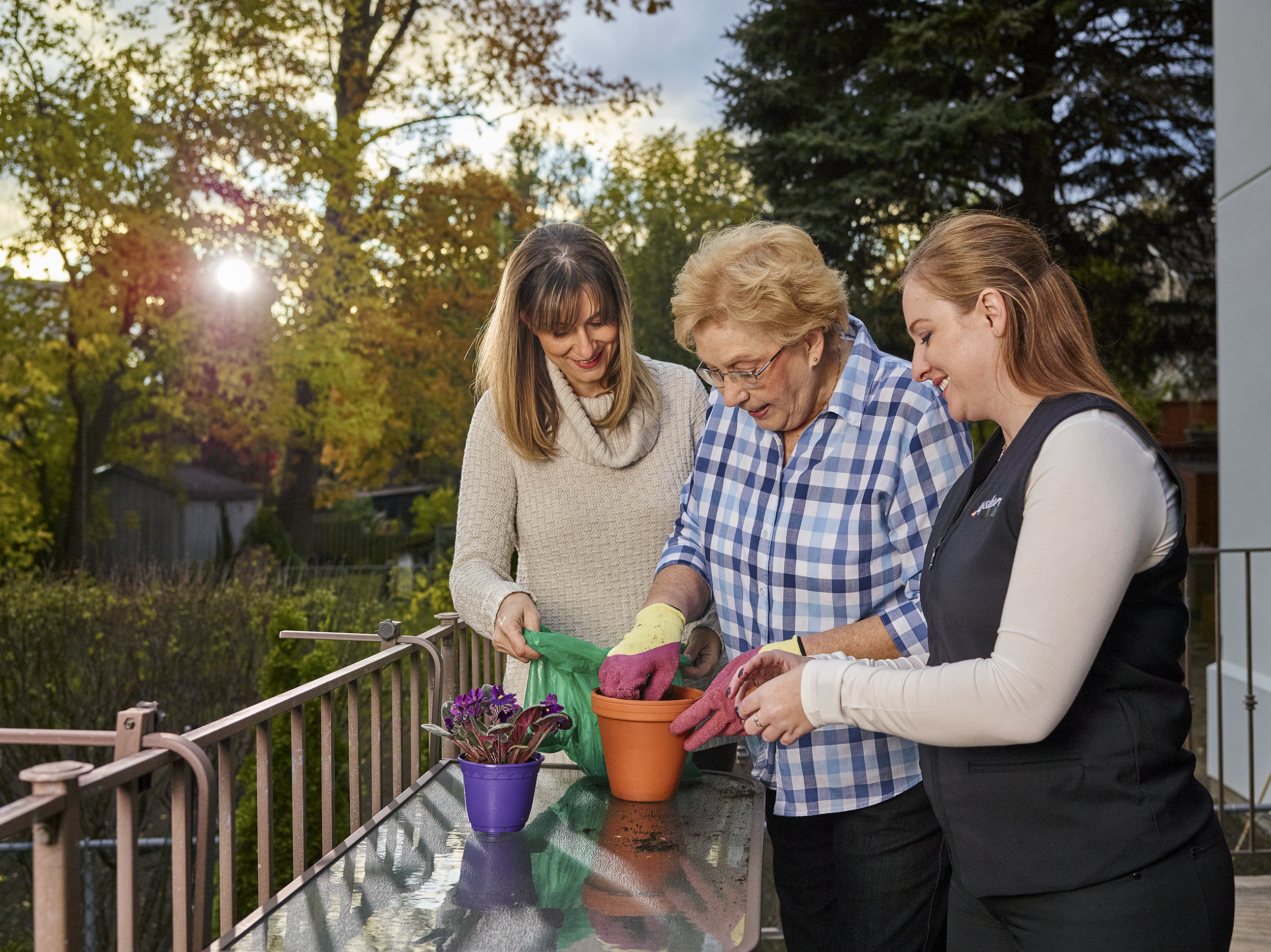 Living independently can become increasingly difficult as we age. Physical limitations, health concerns and memory problems are some of the issues that affect our ability to perform everyday activities from cooking and cleaning to personal care and taking medications. A diagnosis of dementia presents additional challenges that significantly impact a senior's ability to remain living safely in their own home.
Understandably, staying at home for as long as possible is a priority for most seniors and their families. A 2013 poll by RBC found that 83% of retired Canadian baby boomers wanted to stay in their homes and pay for home care as needed.
A dementia diagnosis does not necessarily mean a person can no longer live alone. Some people are able to live on their own for some time after being diagnosed. Home support services can make independent living possible for many seniors. According to a 2017 report by the Canadian Institute for Health Information, 22% — or about one in five – of Canadian seniors admitted to residential care might have been able to remain at home with appropriate supports.
There are many things to consider when deciding between home care services and facility-based care. Above all, each person's situation must be assessed and carefully monitored, especially if they have a progressive illness like dementia.
For some seniors and their families, living at home with support may not be an option. For those who are weighing the benefits of home care versus long-term residential care, here are some things to consider.
The pros and cons of Home Care
The overriding benefit of using quality home care services to support seniors in their own homes is allowing them to retain control in their daily lives. This can positively impact their sense of well-being, dignity and quality of life.
Pros
Maintaining independence
Staying in a familiar, comfortable environment where family and friends have easy access to visit
A routine schedule for assistance with activities of daily living
Being escorted to shop, go on outings or to medical appointments, etc.
Companionship and building relationships with regular caregivers
Relief for family caregivers
Flexibility in the amount and type of care/assistance required
In-home clinical care such as nursing, physiotherapy and occupational therapy if required
Privacy and solitude for those who are not "joiners"
Cons
Facility-based care offers seniors interaction with people of the same age while those living at home may have less socialization
It may be necessary to incur costs to install ramps, railings or chair lifts to improve accessibility at home
To prevent wandering in seniors with dementia, you may need to re-locate door locks, install fences and gates, purchase alarms and/or electronic locating devices, and register with an emergency service
The pros and cons of Long-Term Residential Care
Pros
Medical and non-medical care is available 24/7
Staff ensure medications are taken appropriately
All personal care needs are taken care of
Meals and housekeeping are provided
Most facilities offer activities and outings
Congregate living provides opportunities for social stimulation
The physical environment is accessible and includes safeguards for wandering
Cons
Loss of independence
Difficulty adapting to a new environment and adjusting to group living
Many residents have dietary restrictions so food may be bland and there is less control over meal choices
A large proportion of residents have dementia which can lead to behavioural challenges including resident-to-resident abuse
Long distances to a facility may prevent frequent visits from family and friends
Staffing changes may make it difficult to build ongoing relationships with caregivers
Bayshore Home Health can help
We can help you determine if home care services are right for you. Contact us for a free in-home consultation. An experienced care manager will discuss your lifestyle and health needs, answer your questions and develop a fully customized care plan. We can also provide personal care to people living in residential facilities who would benefit from additional assistance. Bayshore Home Health offers a wide range of home and community health care services through more than 70 locations across Canada.