Living Well with Multiple Sclerosis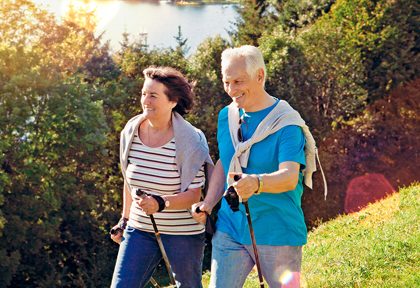 Here are some tips on how to manage a healthy lifestyle if you're living with Multiple Sclerosis (MS).
Treatments
Treatment for MS is individualized and may include different types of therapies.
Relapse management therapies suppress the inflammation that causes attacks, reducing their severity and duration and preventing further damage to nerve fibres. Disease-modifying therapies, available for relapsing-remitting and secondary-progressive MS, can slow progression and reduce relapses. Other medications can help manage symptoms such as pain or fatigue. (For detailed information about MS medications, visit mssociety.ca and search for "Treatments.")
Some people with MS use complementary and alternative medicine (CAM); however, these therapies are not well supported by scientific research. People with MS are wise to discuss CAM with their physicians before trying it.
Many people with MS find it beneficial to receive rehabilitation therapy, such as physiotherapy, to maintain or improve mobility and physical function. Speech/language pathologists can help with problems with speaking or swallowing, and mental health professionals can assist with mood and cognitive issues.
Benefits of Healthy Living
While there is not yet a cure for MS, there is much that people can do to improve their overall well-being. Exercising regularly, eating a nutritious diet, avoiding smoking and paying attention to mental health can all have a substantial positive impact
Exercise:

Physical activity can boost energy and improve balance and cognitive function. Adults with MS should aim for 30 minutes of moderate-intensity aerobic activity twice a week, alternated with strength training for major muscle groups. For detailed guidelines, visit mssociety.ca and search for "Exercise." (Talk to your physician before starting an exercise program.)

Nutrition:

Strive for a diet that is rich in vegetables, fruits, whole grains and fish, and also low in sugar, salt and red meat (which have been linked to inflammation). For guidance on food choices and portion sizes, consult Canada's Food Guide (available online; see "Resources") or talk to a registered dietitian.

Smoking:

According to the MS Society, smoking increases the likelihood of accelerating the progress of MS from RRMS to PPMS. Talk to your physician about quitting and take advantage of free resources for smoking cessation (see "Resources").

Mental health:

Clinical depression is a symptom of MS, and it occurs in about half of people at some time in the course of the disease. Medication and counselling can prevent depression from worsening, and MS support groups also provide vital support.
For more information please visit the resources below:
Multiple Sclerosis Society of Canada
This is your best source for up-to-date MS information. Visit the website for support and services, physical activity guidelines, research news and ways to get involved.
mssociety.ca / 1-800-268-7582
Eating Well with Canada's Food Guide
Learn about nutritious foods and portion sizes, and create a personalized food guide online.
hc-sc.gc.ca/fn-an/food-guide-aliment/index-eng.php
Dietitians of Canada
Visit this site to find a registered dietitian. Canadians in Ontario, British Columbia and Manitoba can also ask questions through provincial call centres at no charge; see website for details.
dietitians.ca
The Lung Association: Quit Now
Create a plan to quit smoking, consult a Quit Coach and find other resources at this helpful site.
quitnow.ca
Canadian Cancer Society: Smokers' Helpline
Free, personalized tools to help smokers quit.
smokershelpline.ca / 1-877-513-5333
Health Canada: Natural and Non-prescription Health Products
Learn about Canada's regulation of natural health products, including herbal remedies, vitamin and mineral supplements, traditional and homeopathic medicines, probiotics and enzymes.
hc-sc.gc.ca/dhp-mps/prodnatur/index-eng.php
Bayshore is pleased to provide information that educates you as you strive to care for your loved ones. This newsletter contains information about MS. The information is not advice and should not be treated as such. For more information on multiple sclerosis, please consult your doctor.
1.877.289.3997 / clientservice@bayshore.ca
www.bayshore.ca