Seniors can benefit from unique creative therapies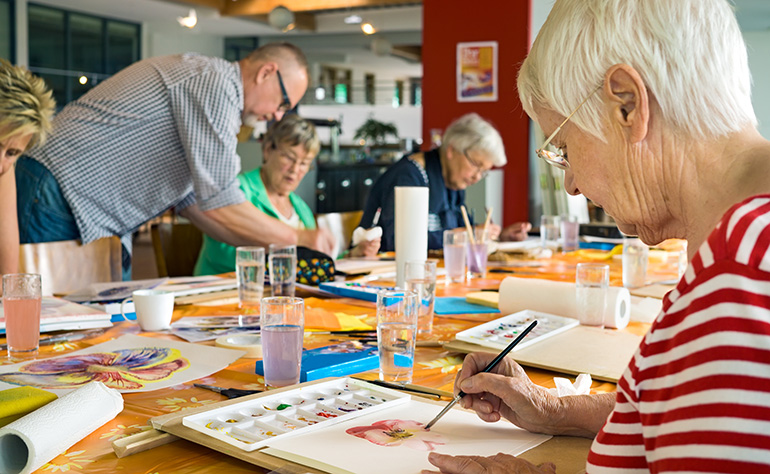 We at Bayshore know first-hand the healing power of therapy. Today, traditional therapy practices are expanding to include more creative disciplines. Read on to learn more about unique therapies and how they can be introduced into your life at home:
Music Therapy
The beauty of music is now being used to soothe and heal. It is gaining popularity in Canada for people of all ages including seniors, at-risk teens, and those with physical, social or language impairments. Music therapy techniques are also diverse – from drum circles, to song improvisation, to simply singing along to a familiar tune. Music has been shown to be a powerful tool in recovery and rehabilitation.
Aroma Therapy
Do you have a favourite scent that brings you comfort in times of stress? A lavender candle, freshly washed sheets or the smell of lemon? Then you can already imagine how effective aromatherapy can be – essential oils of plants and herbs are widely used to holistically heal a host of problems. You can easily bring a little aromatherapy into your home with room sprays, scented candles, or oil diffusers. Get to know a few powerful essential oils you can use to stay focused, improve sleep and combat stress.
Pet Therapy
Dogs have always been man's best friend, but now we turn to our pets for much more than just companionship or a good reason to exercise. Animals are being used in clinical settings to assist those in need of therapy. Assistance animals like guide dogs are trained to help those with visual and mobility limitations. There are also pet therapy programs which bring animals to patients in hospitals, nursing homes and other facilities. And the gentle disposition of horses is also being channeled through equine therapy, in which patients ride and care for horses
Art Therapy
Creativity is an important part of a healthy, balanced life, and art therapy is an effective way to stay in touch with emotions and deal with stress or trauma. Colour, texture and inspiration all come together to make art therapy an excellent option for those with dementia, anxiety, PTSD and more. And you don't have to be a Michelangelo to benefit from art therapy – you can feel its positive effects by colouring, doodling or making a collage.
Dance & Movement Therapy
Ballet, tango, ballroom or salsa – whatever your favourite type of dance, many Canadians are shimmying and shaking their way to sharper cognition, reduced pain and better self-esteem. You can put on some music and get moving with your loved ones, grandkids or caregiver to feel a rush of endorphins and a refreshed sense of creativity.
In-Home Care is another way seniors can enjoy freedom, independence and a healthy lifestyle as they age. If you think you could benefit from a little help at home, give Bayshore a call at 1-877-289-3997 to learn more about how .