Summer Activities to Enjoy with Seniors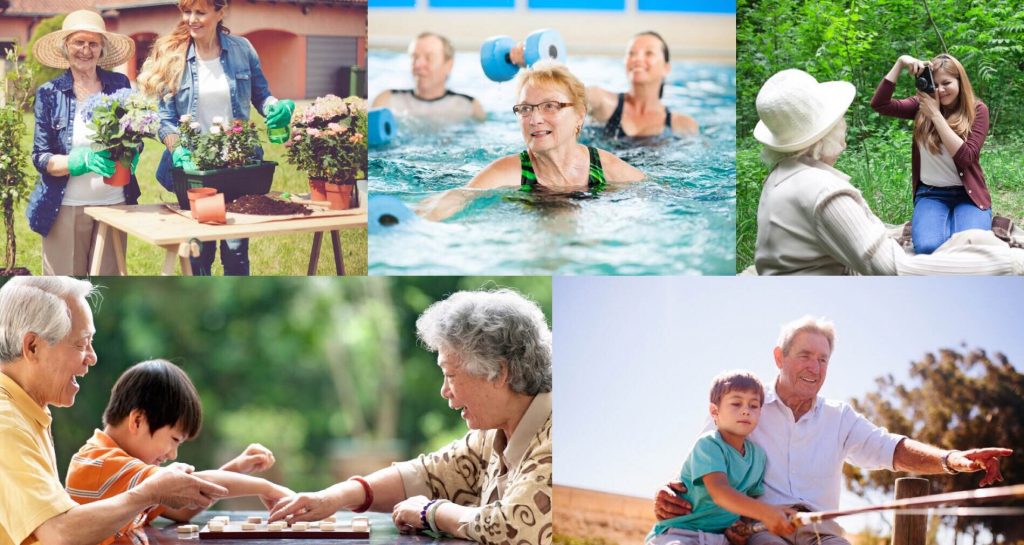 It's summertime! A great time for fun and spending time outdoors with loved ones. We, at Bayshore HealthCare, have some ideas for summer activities that Family Caregivers can enjoy with their elderly loved ones.
Ideas for Enjoying Time Together Outdoors
Play outdoor games
Involve the whole family in simple outdoor games, such as horseshoes, cornhole, croquet, badminton, tennis, and lawn darts. Many of these games increase hand-eye coordination, offer light cardio exercise, and minimal strain on joints.
Swimming or Water Aerobics
Many community pools and recreation centers offer specific times and special activities, such as water aerobics, for elderly participation. Even if your community pool doesn't cater specifically to elders, it shouldn't stop you from jumping in and enjoying the water together. Simply walking around in the pool or doing leg kicks offers health benefits. One of the many benefits of water exercise is how easy it is on joints.
Enjoy outdoor theater, concerts, cultural events
Most communities offer special events, plays, concerts, and festivals during the summer months, usually at no or low cost. Take advantage of these special outdoor entertainment opportunities. Bring a blanket, pack a picnic, and invite the whole family! Summer evenings can be such a beautiful time of day to be outside.
Garden Together
Tilling up soil and planting a large garden is probably an overly ambitious goal. However, there are many smaller scale gardening projects that are perfect for seniors. One option is container gardening. Plant some tomatoes, or other fruit or veggie, which requires minimal maintenance and easily produces more than the effort required. Or, buy a variety of flowers, vines, and greenery of various heights to plant in a large pot – this can be a creative activity that will provide enjoyment throughout the summer, also with minimal maintenance required.
If you want to try something a little bigger but still manageable, try straw bale gardening. The bale height is convenient and not as difficult for seniors as ground-based gardening. Gardening is a special outdoor elderly activity, especially if your loved one enjoyed gardening before their mobility decreased and it became too much work to maintain a large garden.
Berry and Vegetable Picking
There's nothing as delicious as freshly picked fruits and vegetables. This outdoor activity provides some physical activity but also the reward of fresh fruits and vegetables. Take your harvest home and bake a pie together, pickle cucumbers, or just enjoy them as a healthy snack.
Family Fishing
Fishing is a summer favorite. Many seniors enjoy fishing and it's a relaxing way to get outdoors and socialize with others. Bring along a cooler with plenty of drinks and snacks. You could even enjoy a picnic by the water.
Benefits of Getting Outside This Summer
Precautions to take when planning summertime outdoor activities
When planning summer activities, keep in mind that seniors are at an increased risk for sunburn and dehydration. If you'll be enjoying time outside with a senior, be sure to take the following precautions:
Plan outside activities during cooler hours of the day – usually early morning and late evening are best. If possible, avoid between 10am-4pm, which is typically when temperatures are most extreme.
Be sure your loved one drinks plenty of fluids. Water, sports drinks, or fruit juice are best. Alcoholic and caffeinated beverages should be avoided.
If the elder loved one is sweating or participating in physical activity, consider offering sports drinks or fruits and vegetables to replace any lost electrolytes and potassium.
Be aware of signs of dehydration,

heat exhaustion, and heat stroke

.
Always remember to apply, and reapply, sunscreen as needed.
Pack insect repellent.
Talk to your loved one's doctor to ensure none of their

medications are sun-sensitive (photosensitivity)

, and if they are, know what precautions you should take.
Bayshore Healthcare Resources
At Bayshore Healthcare, we want to be a resource for you. We understand that caregiving can be extremely rewarding, is hard work, and can also produce some overwhelming emotions. Whether providing extra caregiver help designed especially for you or a resource to support you in your caregiving journey, let Bayshore be part of that journey with you in providing the best personalized care for your elderly loved ones. Contact us for more information at 1(877) 289-3997.