The Role of a Family Caregiver in the Lives of Canadian Seniors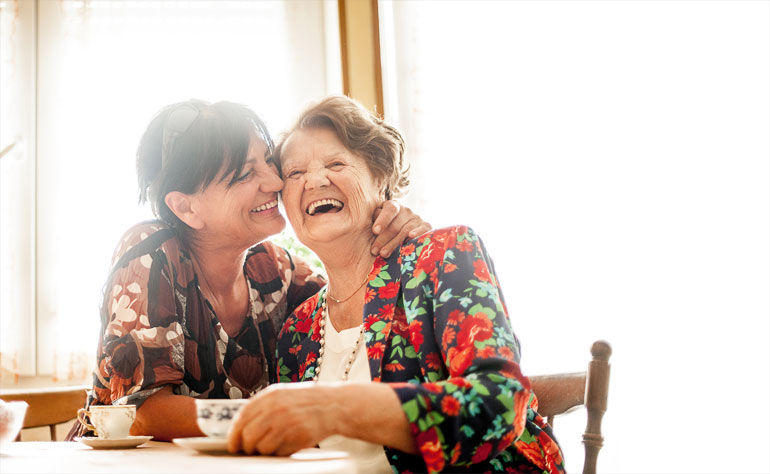 According to Statistics Canada[1], 8 million people across Canada have taken on the role of caring for an aging or health-challenged loved one. Most of us, at some point in our lives, will act as a caregiver for an elder family member. As a family caregiver, there will be many deeply rewarding experiences. At the same time, caregiving is both physically and emotionally demanding, and when family caregivers provide ongoing support for loved ones, they are at risk of burning out. If you are new to your role as a family caregiver, read on to learn the basics of being a caregiver, and how you can protect yourself from stress and caregiver burnout.
What is the role of a family caregiver?
As we navigate through the ups and downs of life, circumstances including aging parents, and illnesses or disability in the family may befall us. In such a scenario, the family member who devotes themselves to taking care of their elders, or a health-challenged loved one, is the caregiver.
Some of the tasks that family caregivers are responsible for include but are not limited to:
House cleaning
Cooking and assistance with eating
Grocery shopping
Paying bills
Giving medicine
Bathing and dressing
Using the toilet
What is caregiver burnout?
The role of a family caregiver can be an honour and a privilege. Some caregivers acknowledge they enjoy having the opportunity to "repay" their parent by caring for them. Caring for a loved one can be a rewarding experience, but intense or long-term care can often have a negative impact on the caregiver's health and well-being. This is especially difficult if you are a first-time family caregiver. These individuals often struggle with balancing their role as a caregiver with their own family's needs, or caregiving and paid employment. This often leads to a situation where the caregiver feels overwhelmed. If you're a family caregiver, it's essential to be aware of the signs[2] of stress and take steps to prevent burnout. Warning signs of burnout include:
Feelings of exhaustion
Trouble sleeping
Decline in diet, exercise and personal care
Anxious & depressed feelings
Increased worry
Trouble Concentrating
New health problems such as high blood pressure, body pain and headaches
Increased use of alcohol or drugs
What is respite care, and how can it help prevent burnout?
Respite care[3] is a type of assistance that allows the family caregiver to take a break from care-giving. This type of care focuses on helping family caregivers recharge, ease their stress, and avoid caregiver burnout. Rather than spending time attending to daily duties, respite care provides assistance and support to the family caregiver. Keeping the caregiver healthy and supported results in higher quality time spent together. The longer a family member can provide appropriate care, the longer the loved one is able to stay comfortably at home.
Is there anything else I can do to help prevent burnout?
Yes, in addition to getting help in the form of respite care, family caregivers can take the following steps to reduce stress and prevent burnout:
Reach out to friends & other family members for help
Stay socially engaged in order to minimize isolation
Maintain a healthy lifestyle by eating well and exercising regularly
Get appropriate information on your loved one's condition
Join a support group with other caregivers
Most aging Canadians still prefer to age in place – being at home, surrounded by family and familiar traditions, makes the experience of aging much easier. Over 28% of Canadians[1] are family or informal caregivers. As a caregiver, you have an emotional investment in the person you are caring for, and you are enabling your loved one to age in the best way possible for them. You may need to take a break from time to time, but there will be more precious moments spent with your aging loved ones when you return.
Share with us some of your most memorable moments as a caregiver for your loved ones. Send us your story today – you'll be helping us spread awareness for all caregivers currently caring for their loved ones, and you'll be entered to win
one of three prizes worth $1,000
towards Bayshore home care services.