Year of the Nurse: A Chat with Maureen Charlebois, Chief Nursing & Clinical Officer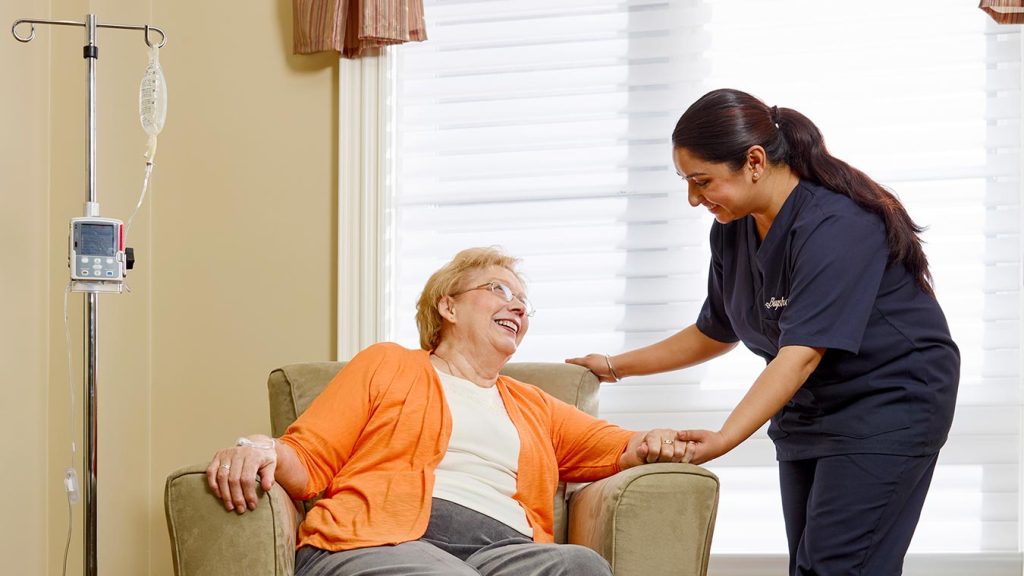 As part of our year-long celebration of the Year of the Nurse, we invited Maureen Charlebois, Chief Nursing & Clinical Officer, to talk about Bayshore's wide range of professional and paraprofessional clinical practice care and services.
Maureen joined the Bayshore team as Chief Nursing & Clinical Officer earlier this year, after holding senior executive positions at local, provincial and national health organizations such as Canada Health Infoway, Rouge Valley Health System and York Region Community Care Access Centre. Maureen has worked closely with interdisciplinary health care teams to develop holistic and client-centric solutions for improved health outcomes. She also has extensive experience in implementing digital technologies across clinical environments, building strategic partnerships and leading large-scale transformations across the health care system.
In a way, leading Bayshore's clinical team brings Maureen's career full circle – she started out as a home care nurse, and she is very familiar with the challenges facing front-line workers. She joined Bayshore in January, just as the world became aware of the disease we now know as COVID-19. Maureen's leadership and clinical expertise has been vital in Bayshore's response to the pandemic. (Read her special messages.)
After watching Maureen's short video about our nursing and therapy services, learn more from the interview below!
Many people think Bayshore just provides basic support, not realizing that we offer specialized health care and service delivery. Can you tell us about that?
Yes! We do amazing things here at Bayshore, but it's not really well understood. Our interprofessional home care team includes 11,000 health care support workers, nurses, pharmacists, social workers, occupational therapists, physiotherapists and speech language pathologists across the country. Every single day, they visit more than 35,000 people in their homes.
Our services promote health, prevent illness, and care for people who are ill or vulnerable or have complex needs. Within the total health care environment, our health care professionals work together to advance the care and well-being of people across Canada. This includes individuals recovering from surgery, and medically complex seniors and children, and their families. We provide advanced care services for patients who require mental health and behaviour therapy such as dementia or Alzheimer's care; patients who require tracheotomy care, ventilator care, wound care, cancer care or palliative care; and patients who need assistance with chronic disease management, pain and symptom management, home infusion services, and intravenous therapy.
Bayshore Specialty Rx is our pharmaceutical division. It includes a network of state-of-the-art pharmacies, infusion clinics and patient assistance programs for complex medications. We also offer clinical trial management of investigational medical products and supplies across Canada, and we provide specialized diabetes-focused services.
Our therapy and rehabilitation services include home safety assessments, physical and occupational therapy, ergonomic assessments of home workstations, return-to-work programs such as vocational assessments and job coaching, and speech and language pathology services. We also offer a residential program for individuals who have sustained a moderate to severe brain injury and require 24-hour care supported by a multi-disciplinary and intensive rehabilitation program.
In the video, you mention opportunities for the future, including virtual care management. What are the benefits for patients?
With our aging population, and the fact that most seniors want to stay in their homes, we really need to look at holistic services to enable them to remain at home rather than going to a hospital or a long-term care facility. To do that, we need to have enhanced funding, and we need to look at innovative ways of providing that support. So, in addition to in-home support, we offer virtual care/telepractice enabled through our digital platforms. This enables timely access to a health care provider, and it enhances the quality of care and health outcomes at the individual and health system levels. In many cases, it saves people unnecessary trips to the emergency department. Their nurse or another member of the health care team could provide symptom management support virtually, and provide additional in-home services as needed.
Bayshore offers a number of virtual care services. Can you give us an example?
A perfect example is CAREchart@home, which is provided by CAREpath, Bayshore's health navigation service. Through CAREchart@home, oncology patients in Ontario can easily access a nurse for virtual after-hours symptom management. It's been instrumental in providing better health outcomes and decreasing the times patients go back to the emergency department. In fact, we have virtually cared for 18,000 oncology patients across the province, enabling a better patient experience by managing their symptoms in their homes – where they want to be. This program has decreased the burden on our emergency departments by achieving a diversion rate of well over 82%.
Definitely with the COVID-19 pandemic, the whole notion of virtual care management has taken off very quickly. Within three days, we were able to leverage this platform and provide a CAREchart@home COVID-19 program for the Government of Canada and the Public Health Agency of Canada. We provided bilingual virtual nursing services for Canadians returning from abroad and placed under quarantine order by the government. We performed i-Nursing COVID-19 assessments twice daily, seven days a week, from 8 a.m. to 8 p.m. across Canada.
What else can we learn from the pandemic?
Our health care system is still a very traditional institution-based model. Home care is not seen as part of the health care system and at times has been forgotten during this pandemic. I think Canada has to learn from what we're experiencing right now and the impact on our most vulnerable, seniors. COVID-19 has taken a toll on society and the way Canadians live, but no demographic has been harder hit than seniors living in long-term care and retirement homes.  The data clearly illustrates that seniors who live at home and receive in-home care have lower COVID-19 rates than those living in institutions. Our seniors deserve the dignity of staying in their own homes with excellent, reliable care. Tragically, COVID-19 has proven that home care isn't just a better experience, with this disease, it has vastly better health outcomes.
Home is not only the safest place to receive care but also the safest place for care providers to work. More than 2,000 health care providers working in institutionalized settings in Ontario have acquired COVID-19 in the workplace, while only eight of our home care staff have been infected.
Bayshore Home Health offers a wide range of home care services to help Canadians live independently for as long as possible. Contact us at 1-877-289-3997 for details.