Clinic Standards
Our community clinics bring the safety standards of a hospital closer to home
Many specialty therapies require administration intravenously or by injection. It's important that this process is done in a professional, safe and convenient environment.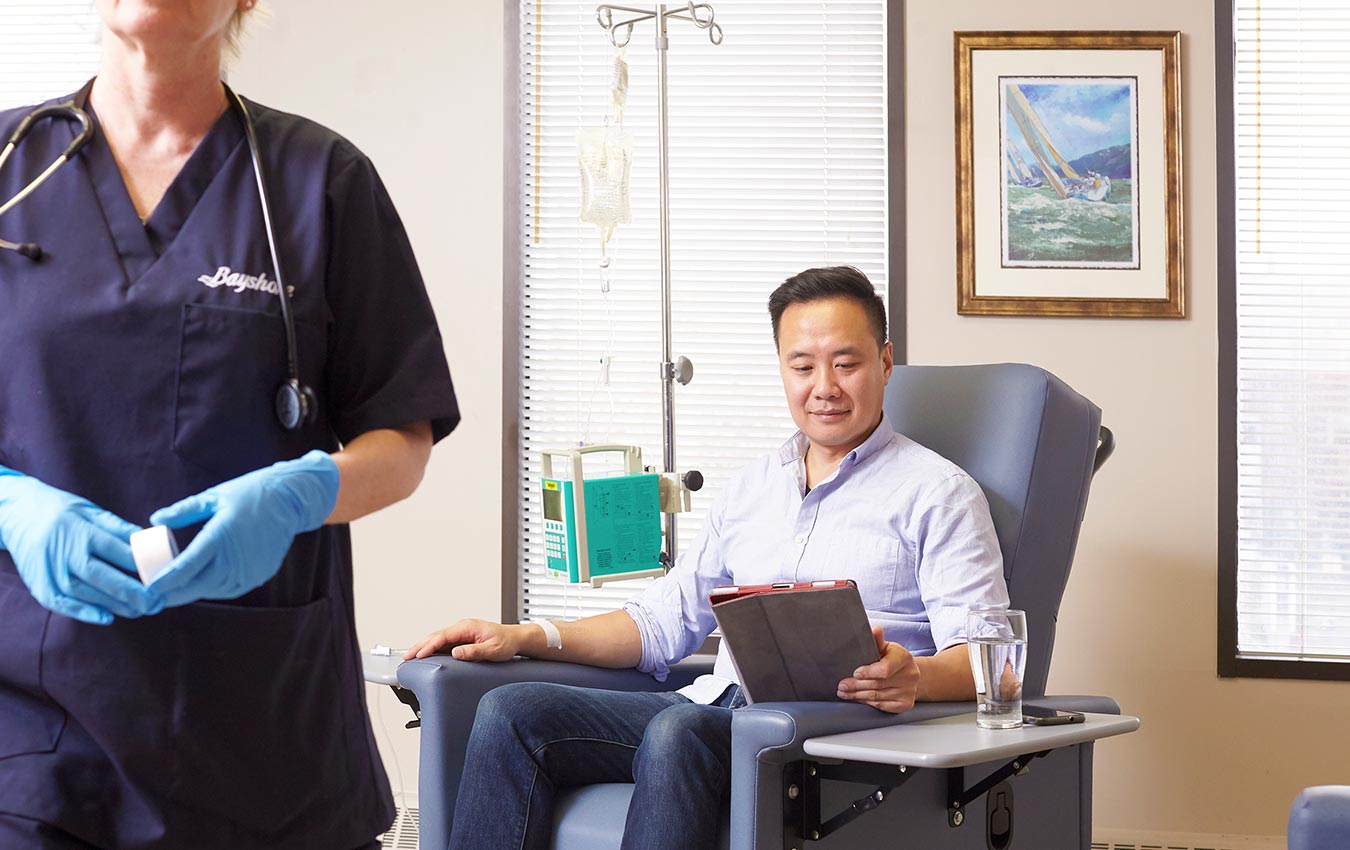 Specialized clinical expertise
Patients receive care from highly specialized nurses specifically trained on the medications they administer and their related medical conditions. All nurses are Advanced Cardiac Life Support (ACLS) certified and receive ongoing education to ensure the highest quality of care.
Nurses working with oncology patients have completed the Provincial Standardized Chemotherapy and Biotherapy Course through our partnership with the de Souza Institute.
We are proud of our Canadian heritage, and 100% of our nurses are bilingual in the province of Quebec. We also have bilingual nurses available in parts of Ontario and Atlantic provinces.
Onsite physicians in case of emergencies
Bayshore clinics employ best practice emergency protocols to ensure patient safety. Each clinic is equipped with crash carts, infusion pumps and full resuscitation equipment.
Bayshore's onsite physician partner, known as the Medical Advisor, is aware of every high-risk infusion and will intervene as necessary.
Central contact for scheduling and inquiries
Our clinics have an appointment booking line for ease of scheduling. Within 48 hours, patients are contacted to schedule their appointment. Evening and weekend services may also be available as needed.
An extension of physicians' clinical practices
Our clinics work in collaboration with referring physicians to develop individualized care plans for each patient. Referring physicians are updated on their patients' progress and the outcome of their care after each visit via automated post-therapy reports.
Drug and supply delivery coordination
We arrange for the medication and supplies to be delivered to our clinics or the patient's home. The patient just needs to show up!
Clinic amenities for patients
Our clinics offer comfortable infusion chairs, access to free Wi-Fi, reading material and cable television. Feel free to bring a book, puzzle or electronic device to use during your treatment.
Light snacks and beverages, such as tea and coffee, are also available in Bayshore clinics.
In-home service
Depending on the complexity and specialized handing needed for the medication, our nurses may be able to administer the medication in the comfort of home.
Our goal is to treat patients in the community safely and quickly to improve patient outcomes.
We treat many diseases and medical conditions in several therapeutic areas, including:
Oncology: lung cancer, breast cancer, renal cell carcinoma (RCC), colorectal cancer (CRC), thyroid cancer, head and neck cancer, chronic myelogenous leukemia (CML), sarcoma, acute lymphocytic leukemia (ALL) / chronic lymphocytic leukemia (CLL), melanoma, non-Hodgkin's lymphoma (NHL), mantle cell lymphoma (MCL), prostate cancer
Neurology: Alzheimer's disease, amyotrophic lateral sclerosis (ALS), multiple sclerosis (MS), cervical dystonia (CD) and upper limb spasticity (ULS)
Rheumatology: rheumatoid arthritis (RA), Crohn's disease, psoriasis, psoriatic arthritis, ankylosing spondylitis
Rare diseases: Gaucher disease, Hunter syndrome, Fabry disease, hemophilia, growth hormone deficiency, alpha-1 antitrypsin (AAT) deficiency, acromegaly, Duchenne muscular dystrophy (DMD)
You have truly made Mom's struggles feel lighter and I am sure you've brought her better health because of the stress you've taken on so that she would not have to bare it all.
Erin C.