Bayshore celebrates investment in nurses – thank you for all that you do!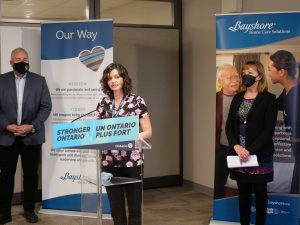 The announcement by the Ontario government of $5,000 retention incentives for nurses was a welcome recognition of their outstanding work each and every day to care for Ontarians in their homes – where they want to be.
COVID-19 pandemic has been incredibly challenging for all nurses and they have gone above and beyond the call of duty to keep our clients, their families and each other safe during these unprecedented times. This critical investment will help ensure patients continue to receive high-quality care in their homes and it enables our passionate nurses to continue being part of care teams in their communities.
"I love working in the patient's home because its highly personalized and I get to know the whole family. Through home visits, I have learned that our patients want to remain at home," said Registered Nurse Melissa Bryen (pictured) at the announcement. "They are so incredibly thankful for how we work with them and their families to provide personalized care services to allow them to remain in the comfort of their own home."
Christine Elliott, Minister of Health, Ontario's also praised Bayshore (at the 15:40 mark) for the high standard of care it provides and its critical role in the Canadian health care system.