People of Bayshore: Sylvie Bertrand
By Mary Mamak, Communications Specialist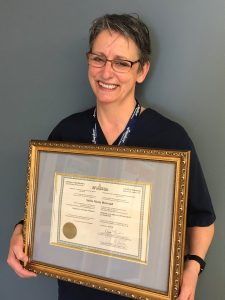 Moncton's Sylvie Bertrand is among the earliest caregivers in New Brunswick to be certified as a Personal Support Worker (PSW), a new initiative by the province to recognize the important work carried out by personal support workers, through the province's  Regional Apprenticeship and Occupational Certification office.
Sylvie was recently certified based on the criteria set out by the Province, which included a minimum 3,000 hours worked in the occupation as of July 1, 2021, for a period of four years. She has been with Bayshore since 2014 and is recognized at the branch and by her clients for delivering services that always exceed expectations.
Sylvie is proud of this accomplishment but is humble about it as well. "I feel that I have graduated from university at 62 years old! And I am glad to be helpful for those seniors who gave of themselves to others."
PSW's working in homes across New Brunswick are doing important work and they deserve to be recognized for this, says Tina Learmonth, Bayshore's Area Director for Bayshore Home Care Solutions branches in Moncton, Saint John, Fredericton and Woodstock.
"As a professional working in home care, it has been a dream for these staff to be recognized and acknowledged for the exemplary work they do. Sylvie has impacted so many seniors and their families through her dedication and care. I am very proud to have Sylvie on my team," says Learmonth.
This opportunity for all PSWs in the province to have their credentials, acquired competencies and work experience recognized provincially will increase the professional status and public confidence in this occupation.