Bayshore's northern nurses make big impact on small communities
By Patrick Callan, Manager, Corporate Communications & Public Relations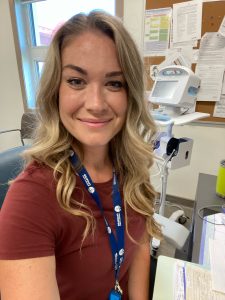 When Amber Miller started her nursing degree at the Memorial University of Newfoundland in 2007, she had no idea that 11 years later she would be flying into remote northern Canadian communities with a stethoscope, a backpack, and a cooler of food.
"It would have been very inspiring for me to hear about northern nursing at the time," says Miller, who is a Registered Nurse working as a Community Health Nurse in an expanded scope of practice. "I have never felt more respected professionally than I have as a nurse in the north. I really feel like I am welcomed. I've tried moose meat, caribou, and have fished with locals. I treasure my handmade mittens and bone and beaded earrings. I'm sure my accent isn't perfect, but I'm able to say about 30 phrases in Oji-Cree and make a point of learning more each time I'm in the north. The Northern Lights are simply spectacular. Working in the north can be quite the adventure."
Over the past two years, Miller has done more than 15 assignments as part of Bayshore's Northern Staffing program, ranging from one week to one month during the height of the pandemic. As a northern nurse, Miller wears many hats. She provides primary, emergency, and prenatal care, runs immunization and well-baby clinics, promotes the reduction of communicable diseases, performs x-rays and casting, consults with specialists in pediatrics, obstetrics, and more.
"During one assignment, my colleagues and I successfully resuscitated an infant in cardiac arrest. It's very humbling to work alongside such strong nurses in a remote setting with limited resources to save a life. I am always learning new assessments and skills from the colleagues I have come to value and respect," says Miller. "When you can refine those things and become a resourceful, creative nurse in the north, and you learn how to work as a team, it's an awesome feeling. Those are the moments that stay with you for the rest of your career."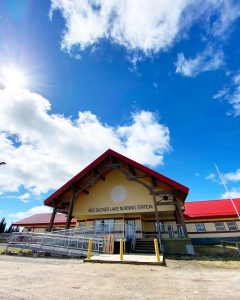 Bayshore has been one of Canada's premier providers of health care staff in remote and isolated communities for more than 20 years through its Northern Staffing program. The program enables nurses, midwives, and nurse practitioners to perform primary care, advanced clinical assessments, mental health and midwifery services in nursing stations, health centers, hospitals, long-term care facilities, and patient homes on temporary assignment in northern, remote, isolated, and semi-isolated Inuit and First Nations communities.
"Northern nursing is an excellent opportunity for both personal and professional growth. Our nurses work closely with diverse northern communities providing care to everyone from newborns to elders," explains Maureen Charlebois, Chief Nursing & Clinical Officer, Bayshore HealthCare. "Not only do nurses get the opportunity to expand their skillset, they also really make a positive difference in the lives of people in Canada's northern communities."
When asked what advice she has for someone considering Bayshore's Northern Staffing program, Miller says be ready to work hard and embrace the adventure. While it is a challenging role, Miller says it's also very rewarding and she has learned a lot.
"I'm more confident in my skills as a nurse because of my experience working in the north. I can really have a direct impact on people, and I appreciate the opportunities I have to learn from my colleagues and the Indigenous populations I serve," she says. "I don't know if there's a single facet of my life that has not benefited from the opportunities the Northern Staffing program has given me. It's been pretty amazing."
To learn more about Bayshore's Northern Staffing program, click here.