Bayshore's IT team reduces waste, raises money for Alzheimer's Society
By Krystyna Oakman, Communications Coordinator
The IT team at Bayshore HealthCare (Bayshore) recently donated more than $17,000 to the Bayshore Foundation through an unlikely source: recycling and repurposing old computer equipment.
The Bayshore Foundation, the charitable arm of Bayshore, will donate the money to the Alzheimer Society of Peel, the IT team's chosen charity. The Alzheimer's Society will direct the funds to programs that help people with dementia live independently, including adult day programs and dementia education for care partners.
"It is a pleasure to work with such creative and innovative people.  The IT team's contribution is a win for the environment and a win for the Alzheimer Society of Peel," says John Lawrence, Director of the Bayshore Foundation. "My thanks go out to the Bayshore IT team for their care and consideration that went into this project."
Sat Sarangi, Director of IT Operation, Service and Support, led the environmentally friendly initiative. It was Sat's idea to donate the funds Bayshore received through a partnership with Abtron Computer Services, a Toronto-based company that securely recycles and removes data from outdated electronic equipment, often repurposing it for use by underprivileged schools and organizations.
"As a group, the IT team truly believes in humanizing our technology experiences through convenience, empathy, simplicity, and inclusion," says Sarangi. "We are pleased to take part in Bayshore's mission to positively change the lives of our customers and their loved ones."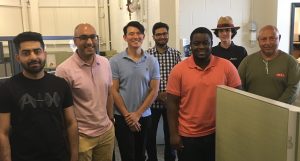 With recycling initiatives such as this, the benefits are twofold; Bayshore can support charitable organizations while curbing its production of e-waste, currently the world's fastest-growing trash stream. When improperly recycled, e-waste can end up in landfills where it leaks toxins into the groundwater and soil. Current efforts to recycle e-waste will help improve the water, soil, and air conditions for future generations.
"Our ultimate objective is to bring the "Reuse & Recycle" strategy to electronic and digital assets," says Abi Zahrai, President, Abtron Computer Services. "We feel accomplished every day when we are able to use e-waste services to benefit communities as a whole."
To learn more about Bayshore Foundation, or to donate to one of the over 60 charities it supports, please visit: https://bayshorefoundation.ca/get-involved/
To learn more about Abtron Computer and the work that they do, please visit: https://www.abtron.com/