On the road again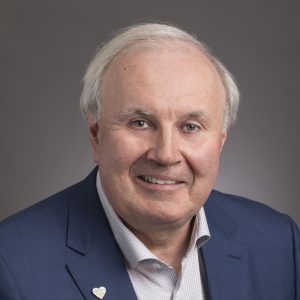 After more than two years of hitting pause on his annual visits to Bayshore's branches across Canada due to the global pandemic, Bayshore President Stuart Cottrelle was able to hit the road this summer—much to the delight of Bayshore staff.
"Prior to the pandemic one of my greatest joys was getting out to the branch offices and meeting with Bayshore's field and administrative staff. I've missed that personal interaction and connection with the unique individuals of Bayshore who are always gracious and fun," said Stuart.
"They challenge me, but mostly they welcome me. I started my road trip in Western Canada and was greeted so warmly by all. It fills me with joy to see the passion and expertise Bayshore staff have for providing high quality care to Canadians in their homes and communities," he added.
For some Bayshore staff, it was their first time meeting Stuart. For others, it was nice to see his familiar face in their branch again—regaling staff with stories like he's done for so many years.
Here's some highlights from Stuart's first trip to Bayshore's Western Canada branches since before the pandemic.

Staff from the Vancouver, Surrey, North Shore, and White Rock offices in British Columbia gathered in Vancouver. This was the first time many people had seen each other in more than two years.
"I had never met Stuart before," said a Vancouver staff member. "He is very down to earth, and it is great that he is so interested in who we are."
"I really appreciate the time he took to spend time with us and listen to our concerns," echoes a BSRx staff member.

"I am always so inspired when he comes to visit," said Stasia Hartley, Interim Regional Director, BC. "He is as excited about growing the business today as he was the first time that I met him 11 years ago!"
Staff appreciated that Stuart took the time to visit Victoria, BC, and speak with their team members. The personal visit meant a lot to branch staff and went far in demonstrating Bayshore's support and gratitude for their hard work during the pandemic.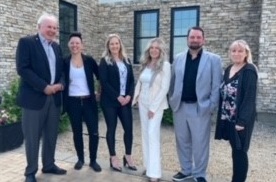 "It was a real honour for all of us to have Stuart in the branch," said Licia Burghall, Saskatoon Area Director, Bayshore Home Health. "He was able to see the Saskatoon office for the first time since we moved, and he was quick to tell me how spoiled we were to be in such a beautiful space—I couldn't agree more! Thanks to a flight delay, we even had time to make a surprise visit to see the team at the newly renovated pharmacy and infusion clinic. We had a great day, good food, and plenty of laughs."

The Northern Staffing and PayBill team in Winnipeg met Stuart on his branch visits in Manitoba.
"The Northern Staffing Team in Winnipeg was thrilled to met Stuart and spend the morning with him," said Area Director Olwyn Lewis. "We truly appreciated having the opportunity to visit with Stuart and loved hearing his stories!"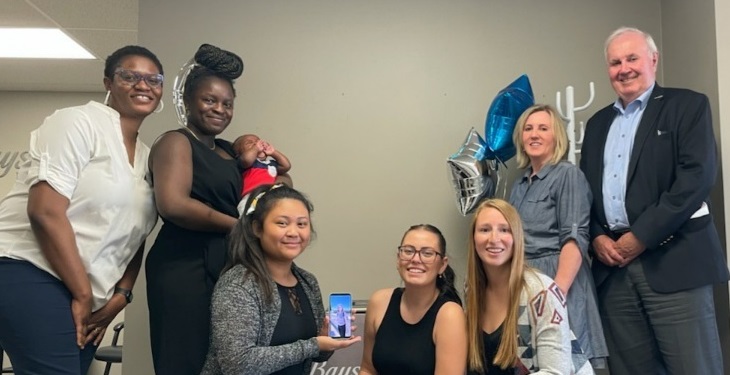 "We all cannot believe how kind, friendly, and approachable Stuart is. He is just a lovely person," said Lisa Newman, Area Director of the Bayshore Home Care Solutions team in Winnipeg. "We had lunch during the visit and Stuart spoke to the admin team and the field staff that came in to meet him. Our HR Coordinator Aminat, who is currently on maternity leave, came into the office to meet Stuart along with her seven-week-old son. We had a wonderful team visit. At the end, we all agreed it was very memorable for us all."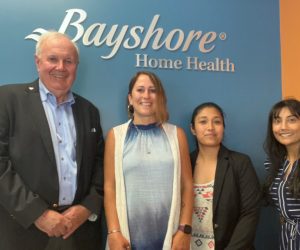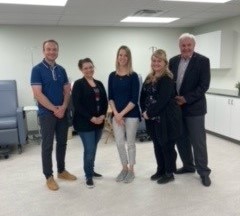 Stuart experienced a few airline delays throughout his travels, but that did not deter him from seeing as many people as he could during his visits, including the Winnipeg Home Health Team and BSRx Pharmacy team in Saskatoon.