Bayshore's Caregiver Week: October 17-22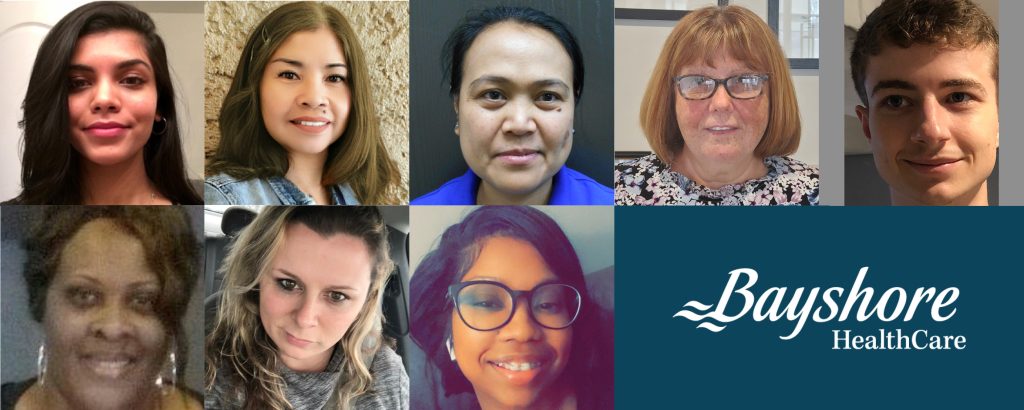 By Mary Mamak, Communications Specialist
Every October since 2003, Bayshore has celebrated our paraprofessionals with a week dedicated specifically to them. This annual event is unique to Bayshore and is an opportunity to highlight their daily commitment to caring for Canadians. Bayshore currently has close to 10,000 paraprofessionals and they are a big reason behind our reputation for excellent client care.
Each year we ask our branch offices to nominate someone from their staff of personal support workers, certified health care aides, community health workers and home support workers. We ask that along with the nomination, they provide reasoning behind their choice, based on the following caring service principles: service, attitude, consistency, teamwork as well as caring and compassion.
This year, we received more than 60 nominations, including one from our office in Brockville, ON. Here's an excerpt from their thoughtful response:
"An outlook on this life is one our caregiver of the year shows in every aspect of theirs; from home to work they are determined to handle any challenge in a way that will make them grow.  They know that being a PSW means you will never be bored, you will always be frustrated, you will be surrounded by challenges, so much to do and so little time. You will carry immense responsibility and very little authority. You will step into people's lives and you WILL make a difference.  Some will bless you. Some will curse you. You will see people at their worst and also at their best. You will never cease to be amazed at people's capacity for love, courage and endurance, including your own. You will see life renew with your caring way, and life's end, also with your caring way. You will see resounding triumphs and devastating failures.  Knowing some days there won't be a song in your heart, but you sing anyway. Taking pride in every aspect of what is means to be a caregiver, you should be very proud of yourself, I know that we here at Bayshore are very proud of the person you are and are grateful everyday that you have chosen Bayshore to fulfill your career goals."
Everyone at Bayshore is incredibly proud of how our paraprofessional caregivers have adapted to changes throughout the pandemic, as well as how they continue to rise to unforeseen challenges that come up every day in order to keep our clients safe in the comfort of their homes.
Thank you Bayshore caregivers for all that you do!