People of Bayshore: Lori LaSalle
Meet Lori LaSalle. She's worked as a Personal Support Worker at Bayshore's Smiths Falls, ON branch for five years and is one of our inaugural 2022 Canadian Patient Safety Award winners. She's also a two-time winner of Bayshore's annual Caregiver of the Year Award – a peer-nominated program to recognize individuals for their outstanding client care at all 60+ branches across Canada. We recently caught up with Lori to learn more about her experience working as a caregiver at Bayshore.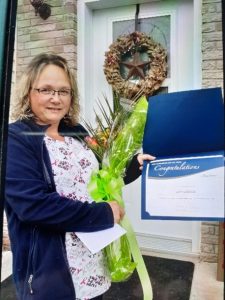 What's your most memorable experience working at Bayshore?
One of the most memorable was my interaction with a woman that had ALS very young. She had very young grandchildren and wanted nothing more than to run and play with them. I was able to take her out in an electric wheelchair for one final journey outside. I will never forget the look of thanks in her eyes.
What do you like best about working in home care?
I have to say working in home care is very rewarding. Sometimes you are the only person a client sees in a day. Right now, I have the same group of clients and they look forward to seeing me like I'm their own family. It's nice to know that through a caring gesture or thoughtful conversation I have made a difference in their day.
Do you have any advice for someone looking to work in home care?
My only advise is to devote time to your clients. It might seem hard to build trust with them at first, but when you dedicate your time in this way your clients will soon look forward to seeing you.
What is a fun fact about yourself?
I always carry a smile, stay positive, and have a great sense humour.