People of Bayshore: Ryden Ortigas
Meet Ryden Ortigas. He's worked at Bayshore's Home Care Solutions branch in Edmonton for four years and this year was nominated three times by his colleagues during our inaugural Canadian Patient Safety Week award celebrations!
Ryden started at Bayshore as a field Licensed Practical Nurse delegator and then became a nursing supervisor doing mostly on-call service after hours. After finishing his Registered Nurse (RN) bridging program, he was given the opportunity to become the first ever RN team lead of the branch.
We recently caught up with Ryden to learn more about his experience working at Bayshore.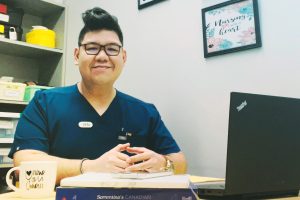 What was your reaction to learning you were nominated three times for a Canadian Patient Safety Week award?
I was quite surprised and humbled with the nominations to be honest; I did not expect to be nominated by multiple people. I am grateful to be a part of a company that recognizes the contributions and efforts of their staff.
What is your leadership style?
It is a mix of democratic and laissez-faire leadership style since I work mostly with highly skilled and senior nurses. In addition, I am more of a servant leader, where I value and trust my team members and listen to what they have to say. I always advocate for my team, and we foster a caring and helping environment.
What is your most memorable moment at Bayshore?
Working with such amazing people everyday is in and of itself memorable. Nurses and Home Care Assistants are one-of-a-kind people that bring hope and happiness to the sick and frail. It is such an honor to lead a team of compassionate, caring, and hard-working people. Being a part of this wonderful team stands out to me the most.
What motivates or inspires you?
My source of inspiration is my mom who passed away two years ago. She is the one who believes in me and molded me to become the person I am today. I owe everything to her, and I wish that she was still alive to celebrate my success.
What is a fun fact about yourself?
I play a lot of video games! I enjoy playing them with friends and I do stream the games I play sometimes. In the past when I was younger and nimbler, I joined competitive esport leagues and won a couple of championship matches.