Getting a first-hand look at nursing in the North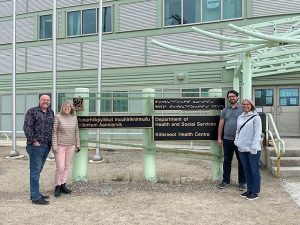 This summer, while many Canadians were finally able to enjoy the warm and sunny days we associate with the season, Scott Maloney, Director of Bayshore's Northern Staffing division, travelled more than 3,500 kilometres to meet with the Chief Nursing Officer and contract lead of the Ministry of Health and Social Services for the Government of Nunavut. It also gave Scott and Chantal Matte, Bayshore's Manager of Client and Nurse Experience, a better glimpse into the world of northern nursing. Joining them on the trip was Olwyn Lewis, Area Director for the division.
"What struck me right away was how difficult being remote is, especially from what we are used to in a major city where we take so much for granted," acknowledges Scott. "But the best part was the community members were the friendliest people in the world. The sense of community was overwhelming, and it was great to see how everyone was looking out for each other."
"While I may have chosen a good time to take this trip north, I cannot help but admire and be grateful to the nurses who willingly take on the challenges of northern nursing in some of the harshest weather conditions in Canada," he adds.
"Northern nursing is a unique opportunity for professional growth," says Olwyn, "and many of our nurses are eager to not only travel to many locations but share their experience with others."
Bayshore's Northern Staffing division services over 125 communities in British Columbia, Alberta, Manitoba, Ontario, Yukon, Nunavut, and Quebec. The nurses who take on these assignments, which can be two weeks to two months in length, are well prepared by Bayshore's Northern Staffing team for their assignments, from orientation to additional training to travel arrangements and housing.
"Our nurses are highly skilled and want to expand their scope of practice to be able to work more autonomously and provide the best care possible in a very challenging environment," says Chantal. "They are also very eager to learn about the culture and engage with the people and their traditions. Often many of these nurses make multiple trips."
So, why do they return to the nursing stations? Chris Watkins, Manager of Clinical Practice for the Northern Staffing division, explains it best. "Our northern nurses are exceptional individuals with many leaving families, friends and loved ones to work in such remote areas where they potentially have minimal access to resources, they are more accustomed to in larger settings. They go north with bags and coolers along with dreams and hopes to genuinely make a significant difference in the lives of people in remote communities."
For more information on Bayshore's Northern Staffing opportunities, please contact cmatte@bayshore.ca or check our website at bayshore.ca/services/government/northern-opportunities