A look at Bayshore's mental health programs and services
By Michelle Ramos, Communications Coordinator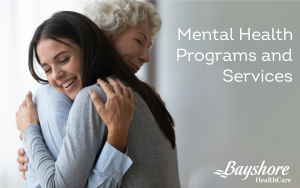 Bayshore has taken significant steps to reduce the stigma around mental health issues, and we continue to inspire each other to take action. Whether through the Bayshore Foundation or the services we offer, Bayshore is proud to help create a Canada where everyone can access the mental health support they need. Here are some of the ways Bayshore is making mental health services more accessible to Canadians:
Carepath Digital Health by Bayshore:
Carepath's Mental Health program was designed to promote prevention and early intervention for mental health issues, including acute mental illness and chronic mental health conditions. Carepath supports members with various mental health-related issues such as: anxiety, depression, stress, grief, couples' therapy, Post-traumatic stress disorder (PTSD), addiction and parent-child issues.
"Carepath's Mental Health program helps members suffering from mild to severe mental health disorders, as well as those struggling mentally or emotionally due to another health condition or life event," says Sherry Hnatyshyn-Webster, Director of Carepath. "Through this program, Carepath is committed to ensuring Canadians have access to community-based mental health services they need."
Learn more about Carepath here: https://www.carepath.ca/about/
Bayshore Therapy & Rehab:
Bayshore Therapy & Rehab offers timely access to confidential support for individuals on sick leave or short-/long-term disability. Bayshore's occupational therapists are skilled, regulated health professionals who work directly with families, employers and other professionals to help clients learn or re-learn everyday activities and increase their mobility, independence and active participation. Mental health services offered by Bayshore Therapy & Rehab include:
Mindfulness
Exposure Therapy
Behavioural Activation
Cognitive Behavioural Therapy (CBT)
Dialectic Behavioural Therapy (DBT)
"Our occupational therapists work with clients whose mental health impairments impact their occupational performance. They provide intervention and training to help individuals meet their goals of engaging in meaningful activities, including preventing lost time from work, return to work, engagement in home and community life, to name a few," says Lindsay Mustill, Manager, Bayshore Therapy & Rehab.
To learn more about Bayshore Therapy & Rehab, please visit: https://www.bayshore.ca/services/home-care/medical-services/therapy-services/
Northern Staffing:
Bayshore's Northern Staffing program enables nurses, midwives and nurse practitioners to perform primary care, advanced clinical assessments and mental health services in nursing stations, health centers, hospitals, long-term care facilities and patient homes on temporary assignments in northern, remote, isolated and semi-isolated Inuit and First Nations communities.
"The ability to access services decreases the stigma that can be associated with mental health and integrates mental health as part of health, similar to any physical ailment," says Jacqueline Simms, Manager of Clinical Practice & Recruitment, Northern Staffing. "I have learned from Indigenous and Inuit peoples that care and compassion can have an impact in providing support for the population. When we spend time caring, we connect with the client, their families and the community."
For more information on Bayshore's Northern Staffing opportunities, please contact cmatte@bayshore.ca or check our website at https://www.bayshore.ca/services/government/northern-opportunities/
The Bayshore Foundation for Empowered Living:
Bayshore's charitable arm, The Bayshore Foundation for Empowered Living, funds charitable organizations that support individuals facing the challenges of illness, injury or aging. The Bayshore Foundation donates to several mental health charities, including:
Canadian Mental Health Association
Jack.org
The Phoenix Centre
Distress Centre of Ottawa and Region
"The Bayshore Foundation for Empowered Living supports several local mental health charities selected by Bayshore employees," says John Lawrence, Director of the Bayshore Foundation. "Mental health impacts all of us, and the demand for these services is high and continues to increase. Whether through donations or volunteering, it's crucial we support local mental health organizations."
To learn more about the mental health charities supported by the Foundation, visit: https://bayshorefoundation.ca/campaigns/