Bayshore's President reconnects with staff through personal visits
By Mary Mamak, Communications Specialist
In 2022, Bayshore President Stuart Cottrelle planned to do something he wasn't able to do for two years – and that was to personally visit as many of the organization's 80+ home care offices and 100+ community care clinics across Canada as he possibly could.
He started on the west coast in the spring, visiting the British Columbia, Alberta, Saskatchewan and Manitoba offices and clinics. He continued his visits in Ontario throughout the summer and finished the year by visiting Quebec and East Coast offices.
As always, office administrative employees, as well as field employees were heartened by Stuart's visit and participation in their local events.
Ontario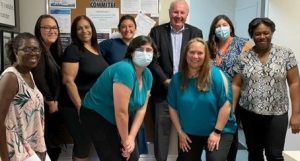 "He always brings such great stories, insight, and left us with a lot of excitement for our local office future and the future of Bayshore," says Abbey Horton, Area Director for Bayshore Home Health office, Hamilton.

"It was a pleasure to spend time sharing stories, laughs and fun with our President. We had a great afternoon, and we always look forward to our time together," says Shannon Rentelis, Area Director, Bayshore Home Care Solutions Northeast Ontario.
Quebec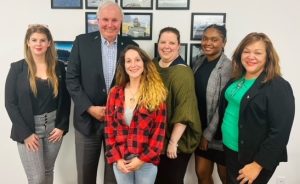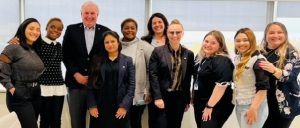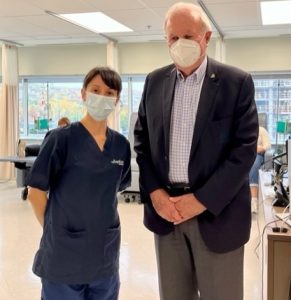 Zoe Vernham, Director of HealthCare Innovation based in Montreal, was very appreciative of Stuart's visits. "In the near 20 years that I have worked for Bayshore, Stuart always takes the time to visit our local teams who are so honored to spend time with him! A visit from Stuart is always so very much appreciated. It is not often that a president is so involved and available! Stuart genuinely cares about the people who are part of the Bayshore family, and this is reflected in the way our employees care for our clients."
New Brunswick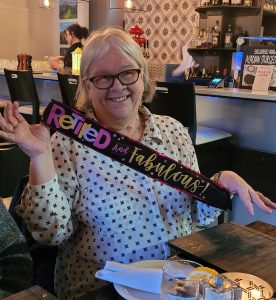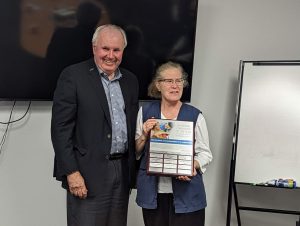 While in New Brunswick last fall, Stuart attended festivities for the employee retirement of employee, Pauline Coyle (26 years with Bayshore) and caregiver recognition of Susan Waye, PSW.
"Seeing Stuart present the caregiver of the year award to Susan was awesome. She is a long-term, dedicated Bayshore employee and being recognized like this is very special," says Tina Learmonth, Area Director for the four offices in the province. She adds, "Having Stuart in New Brunswick is always nice; he listens to the caregivers, acknowledges everyone's hard work and always gives me something to think about."