Bayshore pharmacist uses specialized Multiple Sclerosis certification to educate others
By Mary Mamak, Communications Specialist
From diagnosis to treatment, Bayshore pharmacists are part of the team of health professionals who help Canadians through their health journey, particularly if that journey includes diseases like cancer, rheumatoid arthritis, Crohn's or Multiple Sclerosis (MS). They dispense specialty medications, which are often infused or injected, either in the home or at one of Bayshore's 110 clinics across the country.
A very important part of their work is to ensure patients are informed and educated about the safety and efficacy of the drug and their health condition, as well as how to manage any of the side effects. Beyond that, Bayshore's pharmacists are always available for patients who have questions or concerns about the disease or the medication that is being prescribed by medical specialists.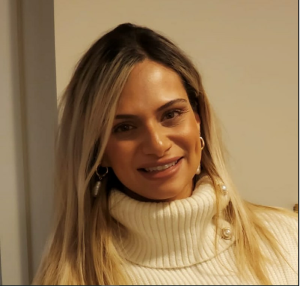 Nancy Banoub, one of the 44 pharmacists with the Bayshore Specialty Rx division, has been providing this expertise for over seven years. She has had a particular interest in MS for many years because her mom was diagnosed with the disease at an early age.
"I want to share my knowledge because I believe that if pharmacists were better utilized, especially in the area of education, it would lessen the burden on the healthcare system," advocates Nancy. "I believe that knowledge is power when it is in action the more knowledge you have about the implications of your disease the better able you are to deal with its many symptoms and effects."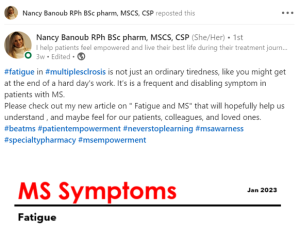 While MS is a very complicated disease to diagnose because of its many symptoms, it also holds a lot of mystery still. Nancy's aims to provide information that clarifies symptoms and treatment, as well as focus on wellness for MS patients, including showing the value of physiotherapy and the availability of home health assistance.
According to the Multiple Sclerosis Society of Canada, MS is a chronic autoimmune disease of the central nervous system. Since that includes the brain, spinal cord and optic nerves, MS can affect vision, memory, balance, and mobility. It is considered an episodic disability meaning that the severity and duration of illness and disability can vary and are often followed by periods of wellness. It can also be progressive. There's no cure for multiple sclerosis. However, treatments can help speed recovery from attacks, modify the course of the disease and manage symptoms.
"It's a fascinating disease because of the number of symptoms, the different symptoms in each person, but most especially because there is no cure for the disease," admits Nancy. Her research has led her to the MS Society of Canada, to validate the information she is dispensing and to seek their approval when using them as a reference and before publishing the information on her LinkedIn account. The MS Society of Canada has since reached out to Nancy to find more ways to communicate to patients and their families and to further the research into this mysterious disease.
Heather Saba, Senior Director, Community/Central Canada for the MS Society of Canada, expressed her appreciation. "Nancy, you truly are exhibiting our mission which is to connect and empower the MS community to create positive change."
Nancy says the ongoing research into the disease is fascinating. Why is it more prevalent in colder climates such as North America? Why does it strike more women than men? Why do certain treatments work differently from person to person? She hopes to find the answers in her ongoing research around MS.
"My primary goal is to help people live as healthy a life as possible with their disease," says Nancy. "I want them to feel empowered as they navigate their symptoms."
For more information about MS, please visit: https://mssociety.ca/
To support the work of the MS Society of Canada and have your contribution matched at 50% by the Bayshore Foundation visit: Multiple Sclerosis Society of Canada – Bayshore Foundation