Forbes names Bayshore one of Canada's Best Employers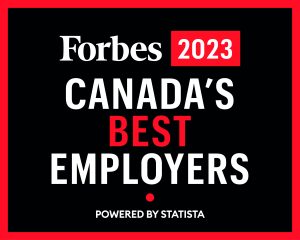 Bayshore HealthCare (Bayshore) has been awarded on the Forbes list of Canada's Best Employers 2023. This prestigious award is presented by Forbes and Statista Inc., the world-leading statistics portal and industry ranking provider.
Forbes and Statista selected the Canada's Best Employers 2023 through an independent survey applied to a vast sample of more than 12,000 Canadian employees working for companies with more than 500 employees in Canada. The 300 companies receiving the highest total scores, including Bayshore, were chosen as Canada's Best Employers 2023.
"This incredible achievement reinforces Bayshore's reputation as a leading Canadian healthcare organization that is committed to providing excellent employee experiences and opportunities," said Stuart Cottrelle, Bayshore President. "We are incredibly proud of this recognition because it reflects how our employees feel about working at Bayshore."
The evaluation was based on direct and indirect recommendations from employees that were asked to rate their willingness to recommend their own employers to friends and family. Employee evaluations included other employers in their respective industries that stood out either positively or negatively.
Employees were also asked to give their opinions on a series of statements surrounding work-related topics such as working conditions, salary, potential for development and company image regarding their current employer.
"Thank you to all Bayshore employees for helping Bayshore achieve this outstanding recognition and to all our leaders for your commitment to creating positive employee experiences and opportunities for individual growth," said Cottrelle.
About Bayshore HealthCare
Bayshore HealthCare is a Canadian-owned company and one of the country's leading home and community healthcare service providers. The company aims to enhance the quality of life, well-being, dignity and independence of Canadians of all ages. With locations across the country, including 80+ home care offices, 11 pharmacies and 100+ community care clinics, Bayshore has more than 18,000 staff members and provides care to over 350,000 clients annually. Bayshore has been a recipient of Canada's Best Managed Companies award since 2006. The Bayshore brand extends across three business divisions: Bayshore Home Health (medical and non-medical home care and staffing services), Bayshore Home Care Solutions (home care services for government care programs), Bayshore Specialty Rx (specialty pharmacy, infusion and pharmaceutical patient support services), in addition to two innovation teams: Integrated Care Solutions and Bayshore Digital. In 2017, Bayshore HealthCare launched the Bayshore Foundation for Empowered Living to assist those living with illness, injury or aging to reclaim or maintain their independence. https://www.bayshore.ca/
Media contact:
Patrick Callan
Manager, Corporate Communications & Public Relations
media@bayshore.ca