Caring for the community is their bread and butter
By Krystyna Oakman, Communications Coordinator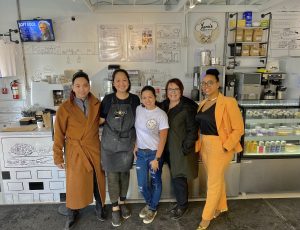 Meet Kris Alvarez and Grace Firmeza. They are the pair behind Xena's Bread and Butter, a much-beloved Filipino Coffee Shop in Halifax, NS. Before opening their café, Grace and Kris got their start in Canada as homecare workers with Bayshore HealthCare (Bayshore). After working full-time during the week, Kris and Grace would borrow a friend's commercial kitchen to bake for the Alderney Landing Market in Dartmouth, NS on Saturday mornings.
"We would finish work and then bake for the whole night until six in the morning," says Grace. "Your body was already so tired, but you would have to stay awake. Saturday night was the time that no one could contact us," she says laughing.
Kris and Grace were born in the Philippines and met in Montreal while studying Institutional and Home Care Assistance at CDC Laurier. The two met Ian Cababasey, an Integrated Health Consultant for Bayshore in NS & PEI, during a cross provincial recruitment initiative in Montreal. Just two weeks later, Grace and Kris were working as homecare workers in Nova Scotia. "Among the 75 participants, they stood out because of their drive and passion to serve the community," says Ian.
Kris and Grace had the full support of Bayshore for their move to Nova Scotia, including finding housing, processing immigration documents, and extending their work visas.
"We met with Ian in his office on day one, and he ran through everything we would need to do to get Canadian permanent residency. He assisted us in every way he possibly could," says Grace. "Everyone from Bayshore, including the Area Director Angel Griffin, were very helpful and supportive."
"We strive to elevate our staff to reach personal goals," says Angel Griffin, Area Director for Bayshore Home Health in Nova Scotia and Prince Edward Island. "Two years prior, Bayshore had established a program called the Atlantic immigration pilot. Grace and Kris were pioneers of the program, and Bayshore processed all their immigration documents from ground zero, including extended their work visas."
Through their Atlantic immigration pilot program, Angel and Ian were able to adapt Kris and Grace's immigration plan to the most appropriate pathway for obtaining permanent residency in Canada. Now full-fledged Canadians, Kris has gone on to complete further training to become a registered Continuing Care Assistant.
"Kris and Grace's story is just one of the many success stories we've had," says Angel. "In two years of the program we have supported more than 40 people immigrate to Canada. A lot of them have gone on to obtain their nursing license and practise in different areas. For some administrative staff this was law school."
During their time at Bayshore, Kris and Grace made a big impact on their clients, often being requested to work certain shifts. Grace, a nurse by profession, particularly misses the connections she made while working at Bayshore.
"We miss everything with them," says Grace. "We always tell them we will come back, once we make sure that the café is up and running. If we are orienting our new staff, we use the same sorts of principles. It's different because were not giving them medicine or a bath, but the customer service is what they will remember. It's how we provide a service to them."
"Sometimes we are already in touch with our former clients," adds Kris. "Instead of us going there, they are calling us! Once you care for other people, it stays with you for a lifetime because the joy it brings is priceless."
When Kris and Grace opened their brick-and-mortar bakery in 2023, Bayshore was their first customer with a large order. Its logo can even be seen inscribed on the wall at Xena's Bread and Butter, as a sign of its long history.
"We are thankful to Bayshore, especially Ian, Angel, Gillian, Bayshore's schedulers, and our clients who have been very supportive of us," says Grace. "None of this would have happened without Bayshore hiring us as a part of the family."