Bayshore creates a culture of acceptance and growth for LGBTQ2S+ employee
By Sahar Khan, Communications Coordinator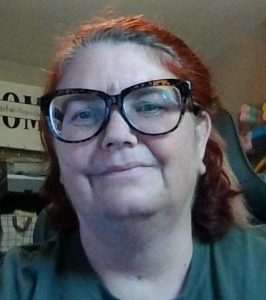 Creating an equitable, diverse and inclusive workplace environment for all employees is one of Bayshore's top priorities.
As we wrap up our Pride month celebrations, we are pleased to feature Jennifer Rusk, a Project Coordinator for MyBayshoreCare (MBC) – an easy to use app that connects patients and families with Bayshore to facilitate scheduling appointments, viewing caregiver information and viewing personalized care plans.
Jennifer recounts her positive experience as an LGBTQ2S+ individual at Bayshore and emphasized the acceptance and support she has received whenever she mentions her same-sex marriage. "Within my current team I feel very safe and secure. They have been nothing but supportive," she said.
This acceptance has allowed her to be open about her relationship and has also inspired positive conversations among her colleagues. Jennifer revealed a heartwarming incident where her marriage inspired a colleague to talk openly about "non-traditional" relationships with her children.
"It gave her the ability to talk openly and explain it to her children that she may not have known how to otherwise," Jennifer said. "She actually thanked me for giving her that opportunity to explain to her children that in public they're going to see much more than a Mommy and Daddy in a marriage."
Along with praising Jennifer's openness and authenticity, Jennifer's colleagues acknowledge her significant contributions to the team and the organization. Jennifer's manager, Patricia Syms Sutherland, National Project Manager for Bayshore Home Care Solutions, highlighted Jennifer's excellent relationship with colleagues and clients.
"Jennifer is the face of MBC with our clients, and we continue to get great feedback about her customer service skills," Patricia expressed.
Jennifer's journey to finding an inclusive workplace has not always been smooth. She recalls previous employers that did not make her feel supported or welcomed for being her authentic self. However, that changed when she started working at Bayshore.
"I am proud to work for a company that actually cares about my health and wellbeing. I am constantly praising Bayshore for being inclusive," she said. "I am also glad there are opportunities to share our stories, as I believe that with sharing comes understanding, and with understanding comes acceptance."
Jennifer not only feels grateful to Bayshore for the inclusivity, but also feels thankful to the organization for helping her remain employed after she had a workplace incident which prevented her from continuing her role as a Personal Support Worker (PSW). Despite the setback, Bayshore retrained her for another position.
"I was one of the unlucky ones; I got hurt on the job," she explained. "I was a PSW for more than 20 years. The only job I was trained to do, I could no longer do. But Bayshore retrained me and gave me another job that I was physically capable of doing. So not only do they have my loyalty because of that, but right from the get-go Bayshore has been phenomenal whether I was in the field or in an administration position. They treat their staff amazing."
Jennifer's experiences highlight the company's commitment to fostering acceptance, respect, and understanding. Bayshore will continue to prioritize equity, diversity and inclusion so that all our employees feel welcomed, respected and accepted.
"I feel Bayshore has been able to recognize my achievements in the company without prejudice, as well as being supportive and encouraging growth," Jennifer said. "I look forward to a long professional career with everyone here."