Bayshore nursing leader named to Canadian Association of Nurses in Oncology board of directors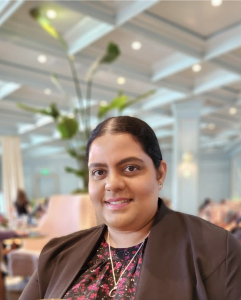 By Amanda Portelli, Communications Intern
Meet Gayatre Maharaj, a Registered Nurse and nursing leader specialized in oncology and palliative care at Bayshore. Gayatre has 11 years of nursing experience and was recently appointed Director-at-Large for the Canadian Association of Nurses in Oncology/Association canadienne des infirmières en oncologie (CANO/ACIO).
To celebrate Gayatre's recent appointment to the CANO board of directors, we learned more about her career and some goals she has for the future.
What does your new role at CANO/ACIO entail?
In my new role as Director-at-Large with the CANO/ACIO, my responsibilities include supporting the provincial and territorial chapters and special interest groups of CANO/ACIO in advancing oncology nursing excellence for the benefit of all Canadians.
The cancer control spectrum is vast, spanning from diagnosis through treatment and supportive care to palliative and end-of-life care, and encompassing both hospital and community health sectors. Patients living with cancer also have a variety of complex and holistic care needs.
My goal in this role is to collaborate with the CANO/ACIO chapters and special interest groups and lead initiatives that highlight oncology nursing excellence. This will be achieved through interactive educational sessions highlighting the work of the membership. Additionally, I aim to promote awareness of oncology nursing by engaging student members to inspire enthusiasm for oncology nursing among the next generation of nurses through collaborative initiatives with the CANO/ACIO board of directors and chapter executives.
How will your career experience help you flourish in this role?
I have worked as a nurse for over 11 years and have obtained certifications in both oncology and palliative care nursing. Mentoring new nurses is one of my greatest passions, inspired by my own mentors who recognized my enthusiasm for learning and motivated me to strive for excellence. I believe this passion will be an asset in my role, as great nursing leaders inspire others by recognizing and highlighting their strengths and motivating them to leverage those strengths to make advances in practice, education, research, and leadership. Ultimately, this translates into high-quality care for patients.
What are you most looking forward to in your new role at CANO/ACIO?
I am most looking forward to networking and engaging with oncology nurses in both the hospital and community sectors across the country through the CANO/ACIO chapters and special interest groups. Having been a CANO/ACIO member since the beginning of my nursing career, I appreciate the value of the membership and am also looking forward to strategizing new initiatives to grow and maintain the membership, inclusive of professionals in both rural, remote, and urban care settings across the country.
What steps will you take in being an advocate for equity, diversity and inclusion?
As part of its 2021-2025 Strategic Plan, CANO/ACIO has recognized a priority to engage with rural and remote nurses to understand their needs and provide valuable and practical resources, such as practice support tools, that will be made available in inclusive and equitable language. As a member of the CANO/ACIO board of directors, I will actively support this work as well as opportunities to enable collaboration of both internal and external stakeholders to support the development of these resources. I will also work with the CANO/ACIO chapters and special interest groups to engage nurses in rural and remote communities to increase membership representation of oncology nurses in diverse communities across the country.

What are you long-terms goals in this role?
One of the biggest challenges facing oncology nursing today is attracting and retaining nurses. I'm enthusiastic and motivated to collaborate with CANO/ACIO on initiatives to promote oncology nursing practice to support the holistic care of cancer patients. Historically, CANO/ACIO has been influential in supporting oncology nursing in urban hospital settings with lesser emphasis on community and non-hospital settings. As a community practice leader for Bayshore, I hope to bring a new perspective and advocate for increased membership representation of nurses caring for cancer patients in non-hospital settings across Canada.
To learn more about the CANO/ACIO, please click here: https://www.cano-acio.ca/