Long-time nurse rediscovers passion for nursing through Bayshore's Creating Nursing Capacity program
By Amanda Portelli, Communications Intern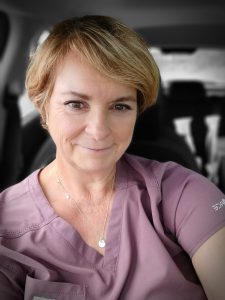 Sandra Belsher has been a nurse for more than 35 years and has worked in various nursing environments across Canada. From being trained at CÉGEP (Collège d'enseignement général et professionnel) in Quebec to being Director of Care in Kingston, ON for two years, Sandra is no stranger to the frontlines and the hands-on experience of a clinical nurse.
Unfortunately, she also experienced the devasting effects of the COVID-19 global pandemic firsthand. "We have certainly learned that our bubble is what matters most: who we can feel safe to see during a pandemic and how precious we are to each other," Sandra says.
Sandra, who recently joined Bayshore as a Registered Nurse, described how the Creating Nursing Capacity (CNC) Program eased her journey into the organization and the home care profession.
"The CNC orientation is the most robust orientation I have ever experienced," says Sandra, Registered Nurse. "The hybrid approach to orientation was a refreshing change to any orientation I have ever had. It kept me interested and motivated me in a very positive way to grasp the position, so I was up to speed very quickly."
Bayshore's CNC program helps seasoned nurses like Sandra transition from a traditional workplace to home care through a four-week orientation program. The tools and training given differ depending on their role. However, all the education is evidence-based modules, taught in hopes of retaining the love nurses originally had for their careers. The CNC program also allows nurses to keep evolving with technology and harness skills that are beneficial within the healthcare industry.
For Sandra, Bayshore is a place that feels comfortable, organized, and educational. "The support I have had from the onset, from my local branch in Kingston, Human Resources, Scheduling, and Head Office have been so wonderful. It very much feels like a family, and I appreciate the opportunity to work with Bayshore," says Sandra.
"Sandra has been a welcome addition to the Bayshore team," added Sandra's manager, Ken O'Hara, Manager of Clinical Practice. "She brings with her a wealth of knowledge as well as shows care and compassion for her client's that makes us proud."
Sandra admits her morale as a nurse had suffered during the pandemic, but when she saw the opportunity to join Bayshore via the CNC program she seized the moment. Her new role in home care provides Sandra with the flexibility to spend more time with her two children and it has reignited her passion for nursing.
"It's a privilege to be included in that circle of trust, and to be the safest and best nurse I can be for our clients."
To learn more about Bayshore's Creating Nursing Capacity program, please email psymssutherland@bayshore.ca or check out video: https://www.youtube.com/watch?v=rTv99IEwsp4