Anywhere and Everywhere: Occupational Therapy During COVID-19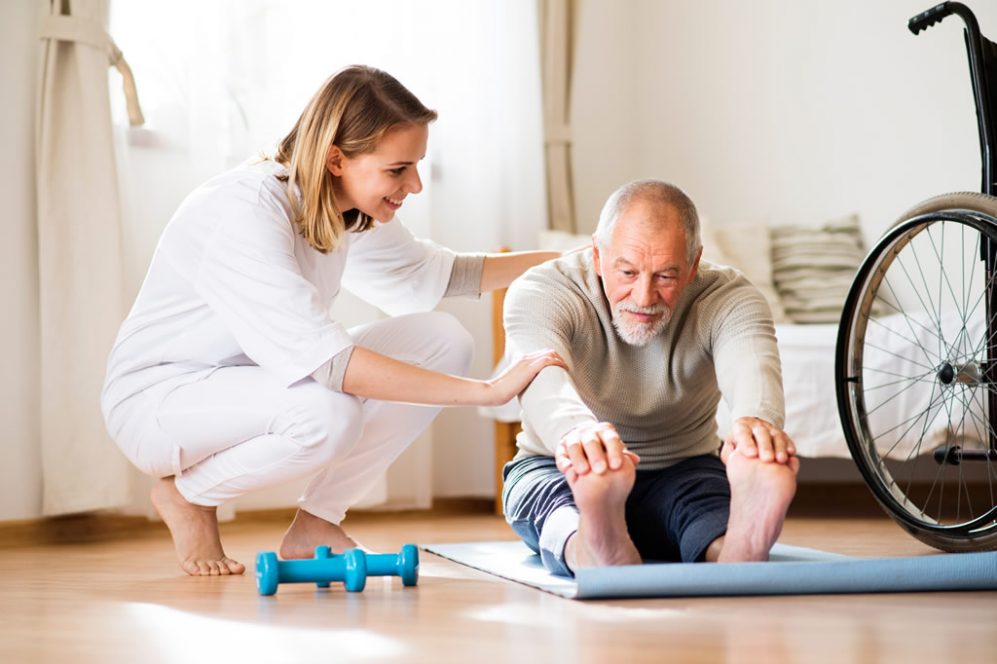 October is Occupational Therapy Month, an opportunity to celebrate the profession and raise awareness of its impact. To share how occupational therapists (OTs) help Canadians overcome different kinds of health challenges, we talked to Andrea De Petrillo, Senior Occupational Therapist at Bayshore Therapy and Rehab, about her work.
Q: What is occupational therapy?
A: Occupational therapists help people of all ages, from babies to seniors, to overcome physical, emotional and cognitive challenges and find new ways to participate in their daily activities. We work anywhere and everywhere: schools, hospitals, homes, long-term-care facilities, workplaces. And we approach every client holistically, looking at their person, environment and occupation, which is not necessarily their job but any activity they want to do but are having difficulty with. We look at how we can modify those three areas to help a person function better cognitively, emotionally/mentally and physically.
Q: Can you tell us about your work?
A: I've been practising as an OT for almost 14 years, the past three with Bayshore. I work with people who have physical, cognitive or mental health issues, and people who have physical or brain injuries from motor vehicle accidents. I also help people prepare to return to work. I work mostly in the community, in people's homes or at their workplaces, wherever that might be – a bakery, an office, a warehouse. I help them practise daily tasks and job-related tasks, and I give them strategies to do things more safely. OTs are very much involved in people's lives and livelihoods. We really get to the nitty-gritty of how they're doing tasks and help them overcome challenges to maximize their quality of life.
Q: How have you adapted your practice during the COVID-19 pandemic?
A: We pivoted very quickly to using online video conferencing. The early days of the pandemic were such a difficult time, because a lot of people were cut off from their clinics, hospital visits and other community services or support groups. People became very isolated at home, and many who were doing well with community supports were suddenly regressing and battling severe mental health issues. Thanks to technology, we can reach people in their homes and help them keep up with therapy in whatever way they can. Connecting with people virtually was key to helping them stay or get back on track. It was important for us to do that, and to do it quickly.
Q: What are the challenges of virtual therapy?
A: Not everyone has the necessary technology, but for those who do, it's been working really well. The benefits of virtual therapy definitely outweigh the challenges. Through video conferencing, I'm still able to see people in their homes, with the help of someone else holding the camera. I can get a tour of their home, watch them use the stairs, the kitchen, the bathroom, etc. At Bayshore, we've done neat things, like having one of our rehab assistants or personal support workers – wearing personal protective equipment, of course – go into the client's home and help me do a virtual visit. They facilitate the video and take measurements around the home, say, for a wheelchair or walker, and they give me updates on how things are going. We've had family members and equipment vendors help, too. It's a real team effort! Not only has this helped during COVID, but it's something we've been doing for years to service clients in rural or northern areas we can't get to.
Q: What do your clients think of virtual therapy?
A: A lot of them are really thankful that we're providing services this way. Many people were feeling very scared and alone when hospitals, surgeries, support groups and therapies were shutting down. They're thankful to have someone to see and talk to on a weekly basis, someone who checks in on them.
Q: Can you share any tips for people who are struggling during the pandemic?
A: Definitely reach out. Find an OT through the College of Occupational Therapists where you live (for example, the College of Occupational Therapists of Ontario, or COTO). Contact your local health authority about government-funded services, or just pick up the phone and call Bayshore Home Health / Bayshore Therapy and Rehab. Advocate for yourself. The help is there.
Stay tuned for Andrea's ergonomic tips for setting up a home office!
Learn more about Bayshore Therapy and Rehab's occupational therapy services or call us at 1-877-289-3997.