The Little Things that Caregivers Do for Seniors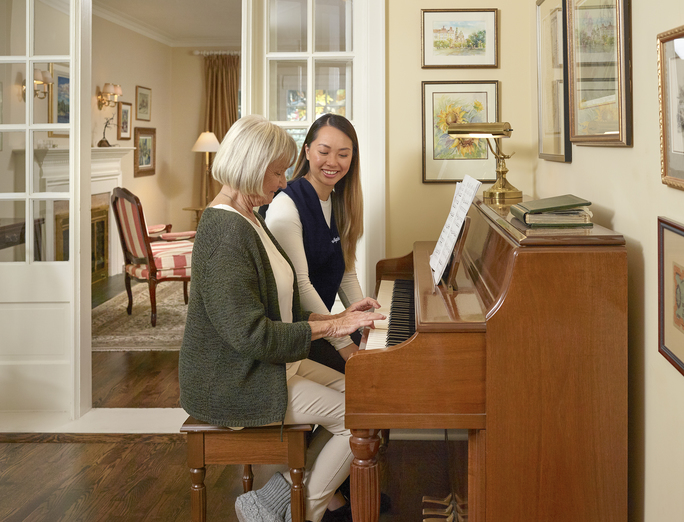 Often in life, the most meaningful moments are the moments spent with those who teach you something, with those who share laughs with you, and with those who support you no matter what. And within those moments, it's the little things that become the most significant and valuable. Especially—as you age, it's the little things that your caregiver does that make a big difference.
When your caregiver helps out with household tasks, you have more energy for the things that mean the most to you in life. They offer to dust that corner you can't reach because they know you feel unsteady on the stepping stool. They leave out your favourite mug, so you don't have to reach and risk straining your bad shoulder. They offer to prep the veggies while you season and stir, because they know how much you love to cook. With someone there to chat away with while they help you clean, tidying feels more like quality time to treasure, rather than a chore to endure. Having someone around to help makes the challenges of aging feel a little more manageable.
When it's time to leave the house, your caregiver is there to ensure you've got everything you need. They grab your favourite sweater on the way out the door, because they've checked the forecast and know you may get a chill. They pick up the carton of eggs on your shopping list before you head to the checkout line, and they know you prefer brown eggs over white. They tune in to your favourite radio station on the drive to your doctor's appointment. They check the times for a matinee movie you mentioned you'd like to go see. They give you a ride to Sunday lunch at the club, and they're outside waiting for you when you're ready to go home.
You turn to your caregiver for an open ear, a shoulder to lean on, and a friendly face to laugh with. It makes a difference to have someone there to recount old memories with, someone who can help dust off your photo albums and hang family portraits just so. They're eager to debate about Downton Abbey, after a marathon of re-watching the series. They pull out your iPad and help you research that new supplement your doctor suggested you start taking. They care about making the little things special in your life, and it's comforting to have someone looking out for you while you age at home.
Bayshore's trusted team of professional caregivers can be there for you, when you need a little extra hand around the house or someone to accompany you on your outings. With locations all over Canada and over 50 years of senior care experience, Bayshore Home Health can help guide you and your family through this journey. Give Bayshore a call today at 1-877-289-3997 to learn how home care can help you treasure the little things in life while aging at home.