The Future is Now: How Virtual Reality Enhances Seniors' Lives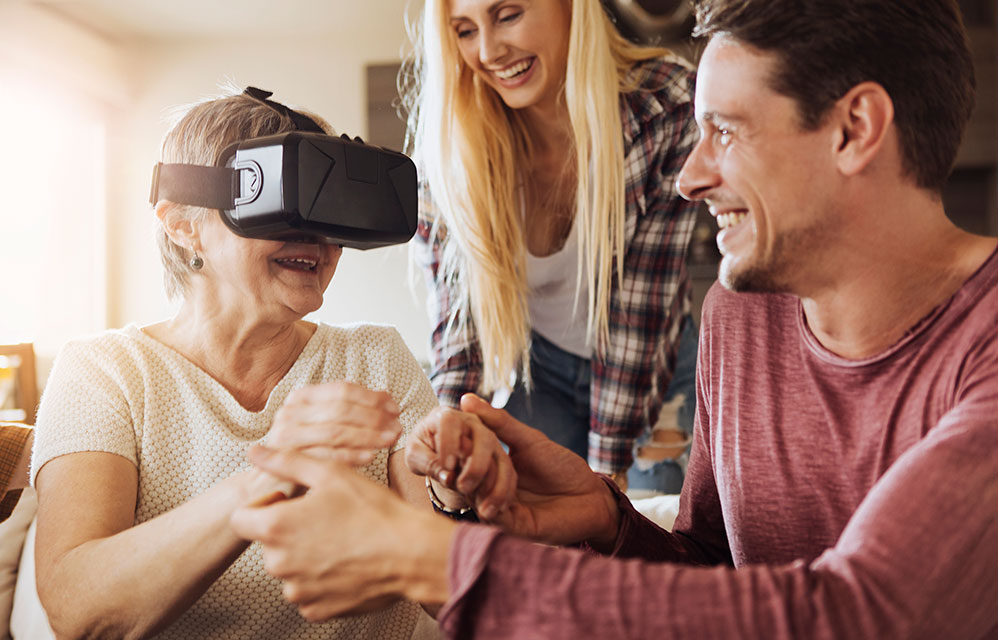 When people hear "virtual reality," they often think of video gaming. That's one of the technology's most popular applications, but virtual reality (VR) has found its way into many other fields, such as health care, sports, business, science, education and the arts. And, as the technology improves and becomes more affordable, its users are growing in both number and diversity. Today, seniors are among VR's greatest enthusiasts – and tech companies are eager to cater to their needs and wishes.
VR promotes seniors' health and well-being by offering new ways to stay physically and mentally active. Studies have shown that using VR technology can stimulate cognition and memory, help reduce anxiety and depression, and manage chronic pain. (Researchers are also exploring how VR can play a role in dementia therapy and palliative care.)
In a group setting such as a nursing home, VR can also foster social connections, reduce loneliness, and facilitate fun and exciting shared experiences.
How does virtual reality work?
Virtual reality is a three-dimensional digital environment created with computer hardware and software. Users are immersed in the scene – they feel like they're inside it, rather than watching it on a screen. To view the environment, users wear a sophisticated headset that tracks head movements. Some VR systems also include hand-held controllers or high-tech gloves that track hand movements.
Once inside the environment, users can explore and interact with it. For example, in the construction industry, VR allows architects, engineers and workers to explore the design of a building by walking around a virtual rendering. In sports, VR helps golfers, cyclists and other athletes measure and improve their performance. And in the corporate world, businesses can use VR to test products, train employees and more.
What can seniors do with VR technology?
VR offers a wide range of fun, entertaining and even health-boosting applications, including:
Entertainment: Enjoy virtual tours of galleries and museums, immersive live theatre and musicals, live sports events, and Hollywood movies shot with 360-degree cameras or other techniques.
Games and experiences: You'll find countless video games and immersive environments to explore. If you've ever wanted to pilot a fighter jet, visit a rainforest, orbit the Earth or explore the inside of the human body, it's all possible in virtual reality. (For a more relaxing session, there are also meditation apps.)
Virtual vacations: Many seniors find long-distance travel difficult or simply prefer to stay home. VR can whisk users to amazing cities, attractions and natural phenomena around the world.
Sports and fitness: Let's get moving! Work up a sweat at home with VR applications that simulate sports such as tennis, bowling, golf, boxing, baseball, archery, rock climbing… the list goes on.
Creative pursuits: VR art apps let users play with their imagination while colouring, painting, drawing, sculpting and animating in 3D.
Reminiscing: VR offers a powerful way for people to relive memories and revisit significant places. For example, a Valour Canada project has made it possible for veterans to "visit" historic battlefields such as Juno Beach and Dieppe. VR can also provide a form of reminiscence therapy for seniors living with dementia. A few tech companies in Canada and the United States specialize in this area; they offer packages to seniors' facilities. (In Canada, check out 3Scape Systems.)
How to get started
You'll find many different VR systems on the market. Two of the most popular and affordable are Samsung's Gear VR ($199.99) and Oculus Go ($259.99). Gear VR requires a Samsung smartphone (it sits right inside the headset), while Oculus Go does not require another device. Hand-held controllers and other accessories cost extra. Both systems allow users to access a large selection of movies, games and more, some for free and others for a fee.
Always keep safety precautions in mind. Read the manual that comes with your VR gear and heed the safety warnings. VR users may experience negative effects such as eye strain, headaches, nausea or motion sickness. People with health conditions such as heart problems, psychiatric disorders and vision abnormalities should consult a physician before trying VR.
Read more posts in our special series, The Future is Now.
Bayshore Home Health offers a wide range of home care services to help Canadians live independently for as long as possible, including companionship at home or by telephone. Contact us at 1-877-289-3997 for details.