In Good Company: How Companionship Supports Lonely Seniors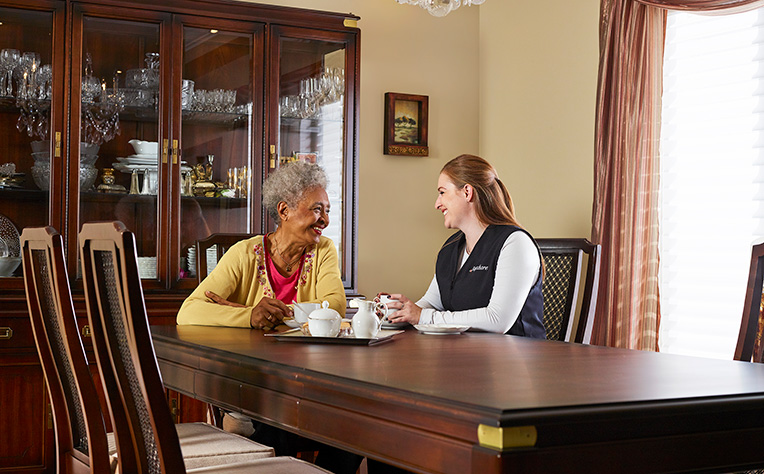 Are you worried that Mom or Dad is alone too much of the time?
As working-age Canadians juggle career and family responsibilities, many of us aren't able to see our parents as often as we'd like. COVID-19 has made spending time with Mom or Dad even more challenging, with the ongoing need for physical distancing. And, with the closure of schools, day care centres and recreational facilities, parents are under more pressure than ever. It may be hard to find time to check in with a senior-aged parent, let alone socialize or have meaningful discussions.
The problem of senior loneliness
Senior loneliness and isolation have long been major health issues in Canada. About a quarter of seniors live alone. Many older adults have disabilities or health conditions that limit their mobility or discourage them from going out. Many lack access to transportation. And, as people age, their social circles tend to shrink, as friends and siblings relocate or pass away. Over time, seniors may feel lonely, disconnected, forgotten or even abandoned.
Loneliness can harm seniors' mental and physical well-being. Studies have linked senior loneliness with a greater risk of depression, anxiety, cognitive decline, dementia, high blood pressure, heart disease, stroke, diabetes and functional decline (difficulty with daily activities such as bathing, dressing and eating). Loneliness can also affect sleep, appetite, immunity, self-esteem and quality of life. In an article published in CMAJ last year, researchers noted, "In older adults, loneliness is associated with a 45% increased risk of death. The effect of loneliness is comparable to other known risk factors for mortality, including obesity and smoking." The good news? Loneliness is both preventable and reversible.
Ways to ease loneliness
If you think a senior loved one is lonely or at risk of loneliness, it's important to find ways to help. Here are several ideas:
Stay in touch regularly with calls, emails and visits (when it's safe).
Discuss your concerns with other family members and ask them to help.
Teach seniors to use technology that helps them stay connected, such as a video chat app on a computer, tablet or smartphone
Encourage Mom or Dad to make friends, volunteer, attend events, etc. (when it's safe).
Suggest that your loved one adopt a pet, if it's feasible for them.
Hire a professional companion to engage Mom or Dad with friendly visits and check-ins.
What is companionship like?
Of all the suggestions above, you may be least familiar with the last one. Companionship is a type of home health care. Professional companions visit seniors at home or their long-term care facility to provide social interaction, which is essential to mental well-being. Companionship helps seniors stay healthy and, for those living at home, to keep living independently.
Friendly and personable, professional companions engage seniors with stimulating conversation, meaningful activities and walks in the neighbourhood, if the senior is able. And if they need help with tasks around the home – such as personal care, meal preparation or light housekeeping – or they need help getting to an appointment, those services are available, too.
Once seniors and companions get to know each other, seniors look forward to the company and conversation. And for a senior's family members, hiring a companion can ensure much-needed support, respite and peace of mind. Learn more about Bayshore's flexible Companionship Services.
What about COVID-19?
Each week, Bayshore provides more than 245,000 home care visits across Canada. We take all necessary safety precautions, including consistent use of Personal Protective Equipment (PPE). These measures have kept the rate of COVID-19 infections among our employees extremely low, at 0.1% (eight staff members). No clients have died from COVID-19 under our watch. And, if you or your loved one prefers, we can also conduct our friendly check-ins by telephone. Read more about home care during COVID-19.
Bayshore Home Health offers a wide range of home care services to help Canadians live independently for as long as possible. Contact us at 1-877-289-3997 for details.