Aging well at home a labour of love
By Mary Mamak, Communications Specialist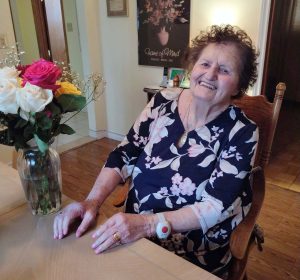 Windsor native Teresa P. has lived happily in her home for over 50 years. Lately, though, she has required substantial support and a team of people including her two daughters, Home and Community Care Support Services (HCCSS) – formerly known as the Local Health Integrated Network – Bayshore Home Health, and the Alzheimer Society of Canada to allow her this continued independence.
"My mother is the happiest she has ever been in her life," says her daughter Lucy Noal. "She's always singing, looks forward to spending time with those who come to help her, and simply enjoys being in her own home with her cat and two birds."
Teresa is fiercely opposed to living in a retirement or nursing home, so Lucy and her sister ensure she can stay in her home, with help and guidance from Home and Community Care Support Services who arranged for the care needed. Through Lucy's advocacy and research, her mom now looks forward to seeing a team of four to five people coming in every day to help her. Her mother receives twice daily care provided by Personal Support Workers from Bayshore Home Health and weekly respite care from the Alzheimer Society of Canada.
"My Mom is a very kind woman and always has been," explains Noal. "She has worked hard throughout her life. She deserves to be happy. She wants to stay at home as long as possible and we want to give her what she wants."
Teresa and her husband, while both from Italy, met and married in Canada in 1961. Unfortunately, she was widowed at the age of 56 and had to learn to come to terms with her husband's death. "My Mom has battled depression and anxiety all her life, but it never stopped her from working hard every day."
Teresa has also never been afraid to try new things. She went back to school in her 40's to become a cook and learned how to swim in her 60's. She has always taken good care of her home and loves to garden – even converting the gravel parking lot beside her home into a leafy oasis.
When she was diagnosed with dementia eight years ago, it presented new challenges for her. As the condition progressed, her two daughters arranged for her daily care through HCCSS, Bayshore's personal support workers, additional care through a benefit from her husband's pension with Chrysler Canada, and privately through funds from a reverse mortgage.
"The team is responsive, exemplary, consistent in their services and, most of all, compassionate to my mother and her ever-increasing needs," attests Lucy.  "We owe this to her. She is our queen. For us, it is a labour of love."