Bayshore's IT team partners with Powerland to support the Alzheimer's Society
By Michelle Ramos, Communications Coordinator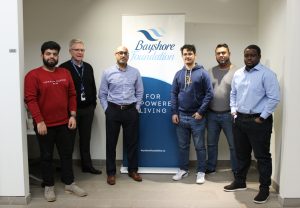 Bayshore's Information Technology (IT) department has finalized a partnership with Powerland in a joint commitment to support for the Alzheimer's Society of Peel through Bayshore's charitable arm, The Bayshore Foundation for Empowered Living.
The partnership with Powerland, the company's supplier of laptops, desktops and monitors, was facilitated by Bayshore's Director of IT Operation, Service and Support, Sat Sarangi. This is the second initiative this year Sat has led to support the Alzheimer Society of Peel.
"I shared the mission of the Bayshore Foundation with Powerland to see if they would be interested in making a donation," says Sat. "We worked together on a creative plan that allows for donations based on our volume.  We hope this partnership will continue to grow and we can contribute more towards local charities through the foundation."
As one of Canada's leading IT infrastructure providers, Powerland supports Bayshore in providing IT equipment and solutions. The company is also committed to investing in communities, people and customers through sustainability and charitable initiatives.
"By choosing Powerland to obtain much of Bayshore's IT requirements, Powerland has opted to donate a portion of the proceeds to the Bayshore Foundation," says Brent Warkentin, Senior Account Manager & Bid Specialist, Powerland. "In doing so, we were able to give back to the community in a meaningful way."
"The Bayshore Foundation partners with registered charities across Canada that support people who are aging or living with disabilities, illness or injuries," says John Lawrence, Director, Bayshore Foundation. "Bayshore employees help determine which charities we support, and we are extremely grateful for their enthusiasm to create new ways to support our charity partners."
Through this partnership with Powerland, the Bayshore Foundation will donate the money to the Alzheimer Society of Peel, which will allocate funds towards supporting community members living with dementia through crucial education, counselling and social recreation programs for those who need it most.
"Thank you to Powerland and the Bayshore Foundation for their ongoing support," says Katie Griffiths, Director of Community Services, Alzheimer Society of Peel. "These funds will help us deliver needed programs and services such as counselling, music therapy and education for our clients and their families."
To learn more about Bayshore Foundation or to donate to one of the over 60 charities it supports, please visit: https://bayshorefoundation.ca/get-involved/