Eating well as you age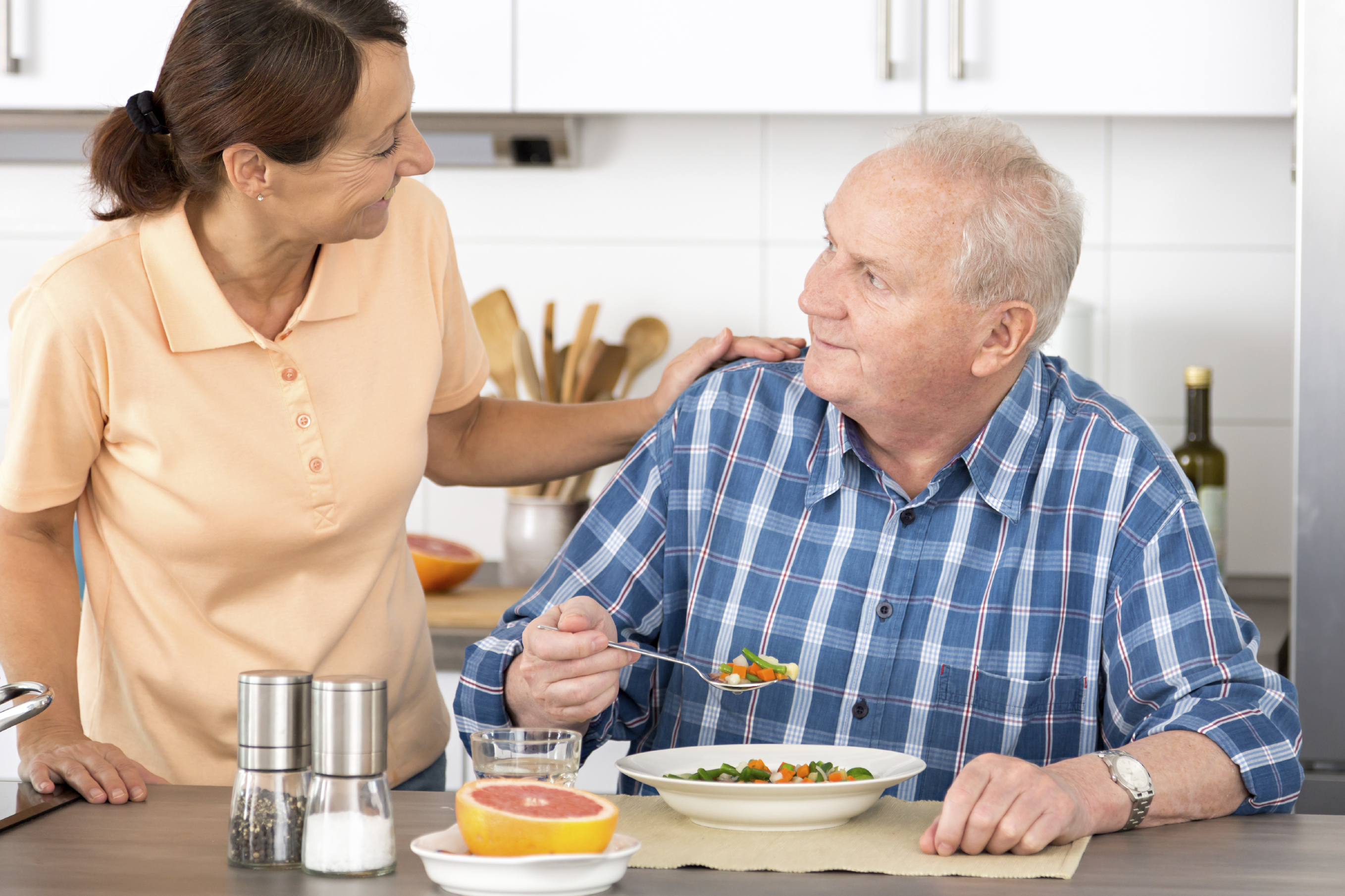 Eating well can be challenging as one ages. If you are a caregiver to a senior loved one and have noticed stale foods around their house, a change in their weight, and poor eating habits, their nutrition could be at risk. It is important to understand why eating habits are impacted as one gets older. Many factors impact the appetite of a senior including: changes in senses such as smell and taste, weakening of the immune system, loss of a loved one, and medications also play a role in affecting appetite.
Here are some ways to help improve your loved one's eating habits and help them get the right nutrition:
Ensure your senior loved ones aren't suffering from dental problems. Seniors that need repairs to their teeth, dentures or implants, may have difficulty chewing. Without the ability to chew, they will simply eat softer foods and will end up avoiding healthy vegetables, fruits, and nuts as they gravitate towards softer foods like bread, muffins, cookies, cheese, crackers, and snacks.
Make sure they aren't experiencing negative side effects from their Medication. If they are suffering from stomach pain, indigestion, gas or dry mouth it may be caused by their medications. Make sure to read the side effects of their medications and speak with their doctor or even their dentist for alternatives and recommendations.
Use a trusted source to plan their meals in advance. Canada's Food Guide is a great resource for planning. It assists with deciding which foods to eat and in what portions for optimal benefits.
Help them Batch cook their meals. Batching is a process for cooking and freezing a large number of meals at once. You can use this same method as a cost effective and efficient way of making sure your loved one has healthy food options at all times.
Order groceries online as an alternative to visiting the store. A quick and easy way to make sure your aging parents have the right food at home is to order groceries online. This is a hassle-free process as the groceries will be delivered to their door.
Enjoy some time together and take your loved ones to local restaurants that serve healthy meals. Encourage your senior to eat well by taking them to restaurants with healthy options in their neighborhood. This way you will get to spend quality time together. Eating out should be done in moderation.
Getting meal preparation as part of home care service. Choose a trusted care provider which offers meal preparation service. Caregivers can assist in cooking nutritious meals while providing companionship to your senior loved ones.
These tips will help you ensure your senior loved ones are eating right. Bayshore offers meal preparation services to many aging seniors across Canada to prepare healthy, hearty meals. Bayshore's home care services such as meal preparation and companionship services include different levels of assistance like purchasing groceries, preparation of hot and nutritious meals (allowing the client to assist if possible), and assistance with light clean up after meals. If you are overwhelmed and don't know where to start, we can help.
To learn more, please call us or email us.